Fix: The Validation Failed: The Process Did Not Start Correctly – Gramblr

You may be experiencing an issue with the popular Instagram uploader application called Gramblr. Whenever you go to sign-in into the application, you receive the following error.
Sign in error!
The validation failed: The process did not start correctly. Try rebooting.
Fix:
Completely uninstall Gramblr using AppCleaner. Don't worry, this won't remove your associated Instagram accounts with your Gramblr account.
Reboot your computer.
After the reboot, download and install Gramblr again from the official site here.
Run the Updater tool included in the download. Right-click -> Open. This will launch a Terminal prompt in background. You can close it when it finishes.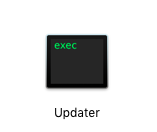 Open the Gramblr app you installed. It will re-direct you in your default web browser to login. You should be able to login again.
Let us know if this did not work for you.
* Please use the comment form below. Comments are moderated.*