Why: This Page is Trying to Load Scripts from Unauthenticated Sources Meaning – Google Chrome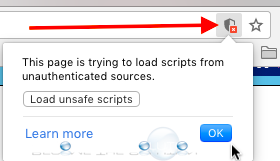 When you load a secure SSL webpage in Google Chrome web browser, you may notice a small warning shield icon badge at the right in the URL bar. If you click the icon, you will see a message.
This page is trying to load scripts from unauthenticated sources.
Basically, Google Chrome is force-hiding and preventing http (non-secure) scripts on an http(s) (secure) site. You can choose to load the load unsafe scripts. If you do, Chrome will load them and the site will show the webpage as Not Secure.
You can further investigate what sources are non-secure on a webpage.
On a non-secure webpage, click the red shielded icon (mentioned above) and click Load unsafe scripts.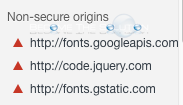 Now, open Google Chrome Developer Tools, then reload the same webpage.
You will see Non-secure origins loading. Examples are pictured below. In some cases, you can simply change these sources to be http(s) in your CSS overrides and they will load fine.

For more information, see this article on Google.
Questions? Use the comment form below to share your thoughts.
* Please use the comment form below. Comments are moderated.*
Comments
No comments made yet. Be the first to submit a comment