Fix: This Copy of the Install OS X El Captain Application Can't Be Verified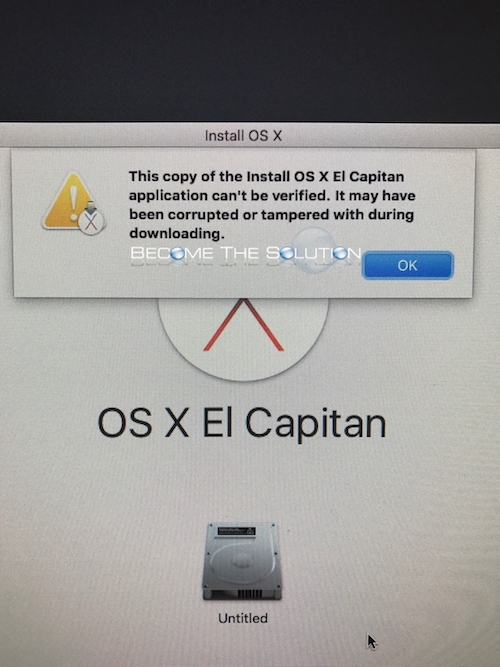 If you are trying to install a fresh copy of Mac OS X 10.11 El Captain after downloading it from the App Store and you are using a bootable USB drive, you may receive an error message right before the install kicks off.
This copy of the Install OS X El Captain application can't be verified. It may have been corrupted or tampered with during downloading.
This error message indicates the MPKG mechanism for checking the application installer checksum (used for proving the install files are valid and from Apple) files failed. It basically means Mac OS X will not proceed installing a copy of El Captain because it can't prove its authenticity – even if the installation is ok. You can still push forward and install Mac OS X El Captain. Follow the steps below.
Everyone Says: Check the System Time on Mac
Apparently, the system time on your Mac may be off causing the El Captain installer to think your system date is way off. This happens if your onboard motherboard battery is toasted. Check the date to ensure it's right – follow these steps.
1. Cancel out to the installation (If you are still on your bootable image of El Captain). Go to Utilities -> Terminal.
2. Type date. If your date is correct, then proceed to the next section below. If it's not correct, continue with these steps.
3. Set the current date and time. In Terminal, type the following command in this format shown in example below date MONTH(02)-DATE(28)-TIME(01:51pm)-YEAR(15)
date 0228015315
Hit enter to apply the new date. It will display. Now, attempt to install El Captain. If it still fails with the same error message, proceed to next steps below.
Force Install El Captain Terminal Command
If your confident the install you just downloaded from the App Store is valid, just use Terminal to force install it. You can do this while still booted from your USB Drive or media. Follow the steps below.
1. Type the following command into Terminal, replacing with your Volume names.
installer -pkg /Volumes/Mac\ OS\ X\ Install\ DVD/Packages/OSInstall.mpkg -target /Volumes/Macintosh\ HD
2. The install should kick off and you'll see in Terminal "installer: OS Install started". Wait for it to complete then reboot.
If all else fails, let us know. You may actually have a corrupt copy of El Captain in the end – maybe you disconnected your USB Jump drive incorrectly causing the files to become corrupt. Try re-downloading El Captain and re-copying it to your media.
Use the comments form to let us know if you have issues or found another way to bypass this error.
* Please use the comment form below. Comments are moderated.*
Comments Changing the date hasn't worked on any of the the bootable USB's I've made from various versions of OSX

i tried the command listed and get the error Invalid option OS X Install
Changing the date hasn't worked on any of the the bootable USB's I've made from various versions of OSX i tried the command listed and get the error Invalid option OS X Install