Fix: Net ERR_CERT_WEAK_SIGNATURE_ALGORITHM – Google Chrome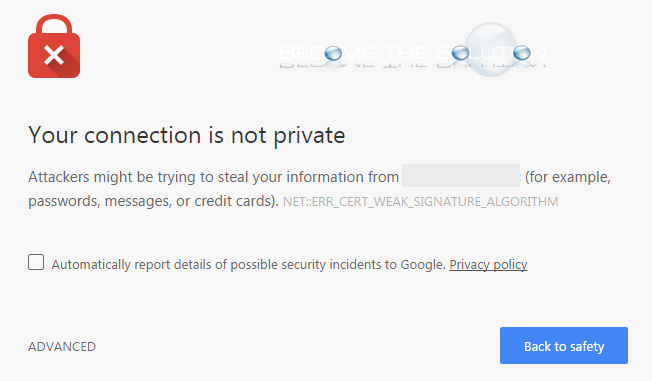 You may receive a warning message in Google Chrome while trying to browse to an HTTPS website that has a weak installed SSL certificate. This error usually happens when a stand alone certificate is issue to a website on a trusted domain (usually local intranet domains).
Your connection is not private
Attackers might be trying to steal your information from (for example, passwords, messages, or credit cards). NET::ERR_CERT_WEAK_SIGNATURE_ALGORITHM
To bypass the Google Chrome message, Disable the SSL Scan Option in your Anti-Virus software.

You can still proceed to the website by clicking Advanced in the Google Chrome window prompt, however it is highly recommended the website administrator update the SSL certificate installed on the website and make it fully trusted with your domain name suffix.
NEXT: How to watch Free Premium Cable Channels / Latest TV Shows / Any Movies with Amazon Fire Stick.
* Please use the comment form below. Comments are moderated.*