Fix: NET::ERR_CERTIFICATE_TRANSPARENCY_REQUIRED
While browsing in Google Chrome to a website with SSL security, you may receive the following error message.
NET::ERR_CERTIFICATE_TRANSPARENCY_REQUIRED
You cannot visit site right now because the website uses HSTS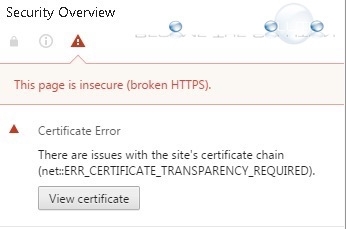 To resolve this error in Google Chrome, ensure Google Chrome is update to the latest version. Go to Google Chrome Settings -> About to check and apply the latest updates.