Message blocked (Message rejected) – Gmail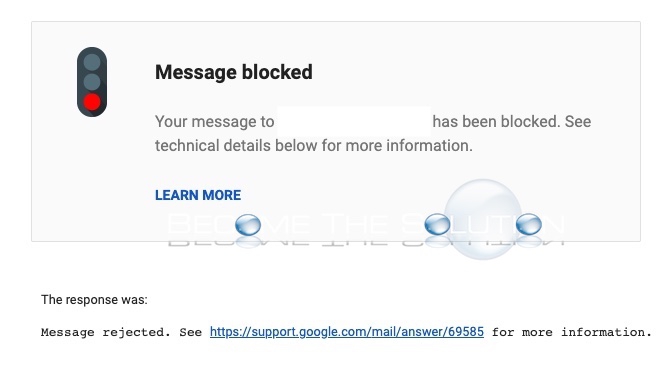 Are you suddenly receiving blocked email messages from your Gmail account to any outgoing email address? It does not matter the email domain you send to or how many recipients you try to send to. Each blocked email message returns the following message from Gmail:
Message blocked

Your message to "" has been blocked. See technical details below for more information.

The response was:

Message rejected. See https://support.google.com/mail/answer/69585 for more information.
However, going to the Gmail message link does not reveal any error message for Message rejected error message. So, it is difficult to determine the cause of your blocked Gmail message.
1. Are you sending a Gmail email with any URL's? Check to make sure those URL's are marked as SafeSearch here by Google. Also, test by sending the email without any URL's in the body. Create a simple Gmail email message with little text to another external email address. If your email successfully sends, then it's likely Google is marking those URL's as spam sites.
2. Test a Gmail email to yourself. If this works, only outbound messages are likely affected.
3. Test a Gmail email incoming to verify you can still receive incoming messages.
If you continue to receive Gmail Message Rejected errors, please post below so we can learn from others what they are doing to fix this.
Comments ju lutem ma riktheni instagramin tim,te lidhur me facebukun tim personal...nuk po mundem me jy ne instgram
mejreme.bunjaku@hotmail.com
ju lutem ma riktheni instagramin tim,te lidhur me facebukun tim personal...nuk po mundem me jy ne instgram mejreme.bunjaku@hotmail.com