Fix: Action Blocked Based on Previous Use of This Feature – Instagram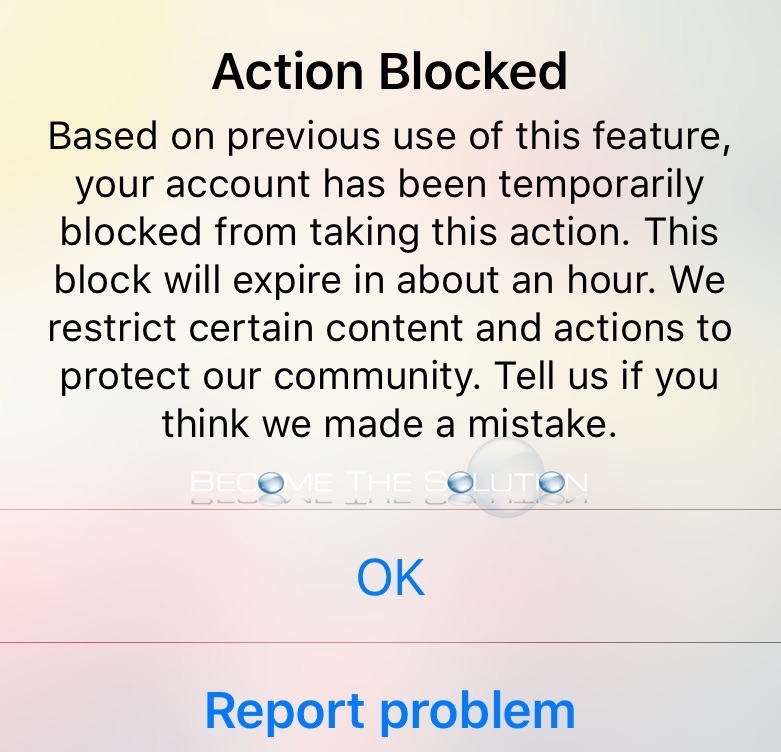 You may receive the following warning prompt from Instagram when you try to like, comment, or edit and Instagram post. This Instagram message is most commonly seen when you use Instagram boost apps for Instagram actions such as auto liking or commenting.
Action Blocked
Based on previous use of this feature, your account has been temporarily blocked from taking this action. This block will expire in about an hour. We restrict certain content and actions to protect our community. Tell us if you think we made a mistake.
Additionally, you may notice the block continue for more than hour. You may end up waiting a few days for Instagram to return your actions.
Note:
Some say making a quick edit on your profile and saving it will automatically remove your action ban, but this is not true. In addition, some speculate that if you have a Facebook ban with a connected Instagram account, you may also need to wait for the Facebook ban to be removed before you can post again to your Instagram account.
* Please use the comment form below. Comments are moderated.*
Comments I accidentally put my Default Google account on to a Website

I don't know how to get it removed from my Default Google account
Rosemary Byrd

I accidentally put my Default Google account on to a Website I don't know how to get it removed from my Default Google account Rosemary Byrd