Instagram: Action Blocked message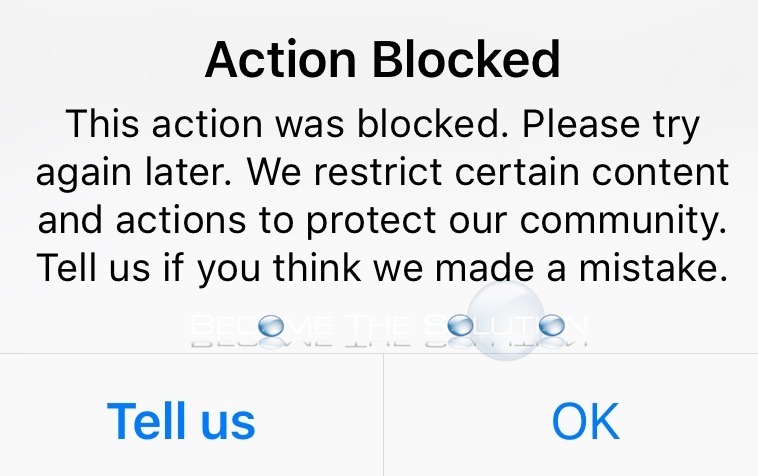 Did you attempt to like, post, tag, or follow a user on Instagram and suddenly receive an Action Blocked message?
This action was blocked. Please try again alter. We restrict certain content and actions to protect our community. Tell us if you think we made a mistake.
In most cases, this message appears when Instagram is having issues serving requests to users. Simply wait and try performing the same Instagram account action again. In other cases, the action you were trying to perform was on deleted post, recently banned Instagram account.
Related messages you may receive in the Instagram app include Oops, an error occurred, There was an error saving your changes, Couldn't post, tap to retry, and Couldn't load activity.
* If you are experiencing this error, please use the comment form below to share your experience with others. *
* Please use the comment form below. Comments are moderated.*
Comments When I try to edit my captions on my alt account it says "edits not saved" and then the "Instagram blocks certain activities..." pop up shows. Why? This isn't happening on my main acc btw
When I try to edit my captions on my alt account it says "edits not saved" and then the "Instagram blocks certain activities..." pop up shows. Why? This isn't happening on my main acc btw