Instagram: We're Removing Inauthentic Likes and Follows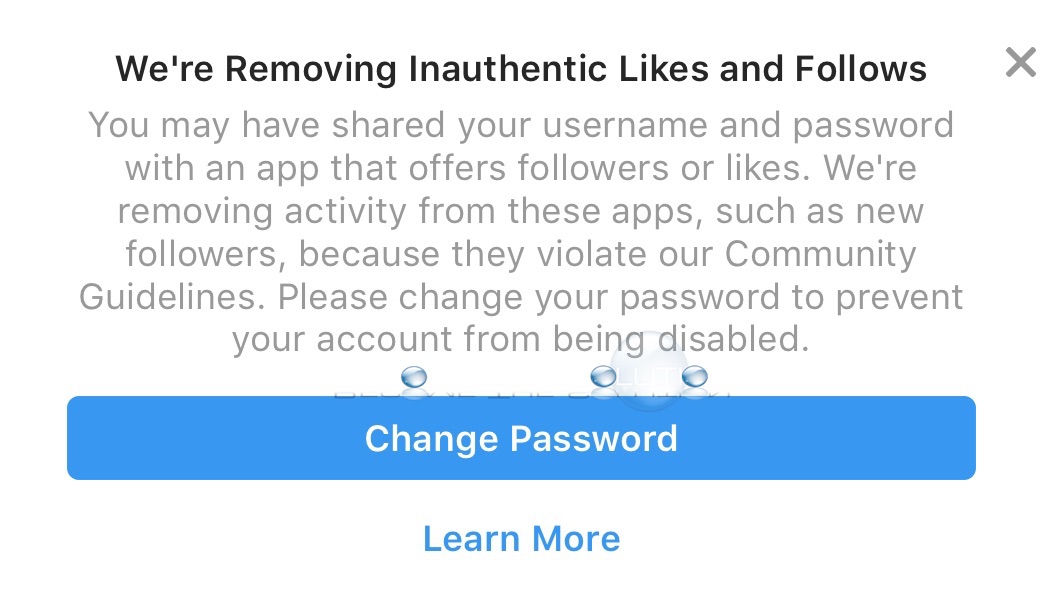 When you opened Instagram on your mobile device, were you prompted with a message at the regarding Instagram removing inauthentic likes and follows? The message appears for Instagram accounts that may have received manually boosted post likes and or account follows. There are several Instagram boosting (also known as growth services) services that allow you to buy or earn followers and likes, such as Gramblr. It appears Instagram is finally cracking down on these services and jeopardizing Instagram accounts that use them now or did in the past.
The message in Instagram App:
We're Removing Inauthentic Likes and Follows
You may have shared your username and password with an app that offers followers or likes. We're removing activity from these apps, such as new followers, because they violate our Community Guidelines. Please change your password to prevent your account from being disabled.
Another similar message from Instagram below:
Using Apps to Gain Followers Isn't Allowed
You may have shared your username and password with an app offering likes or followers. Artificially collecting likes and followers goes against our Community Guidelines, and may result in your account being disabled. Change your password to stop this app from using your account for spam.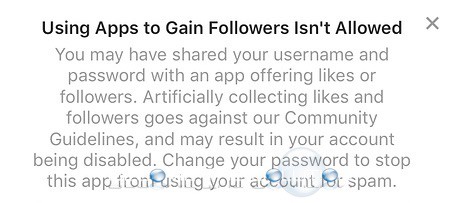 So far, there have been some reports of Instagram account getting banned but seem to be Instagram accounts that are completely auto-piloted by bots and not receiving any human activity.
You should never give your Instagram username and password to anyone, no matter what they promise you. Using these artificial boosting services not only jeopardize your Instagram account (it goes against Instagram's guidelines) but you also put yourself at great risk for someone to steal and impersonate your identity.
Remove your Instagram account from any kings of boosting services and change your password as soon as possible.
*If you received a similar message, use the comment form below and share your experience if Instagram has taken any action against your account. *
* Please use the comment form below. Comments are moderated.*
Comments I had an error on my instagram page My instagram has an error