How To Download all your YouTube Channel Videos (Bulk Download)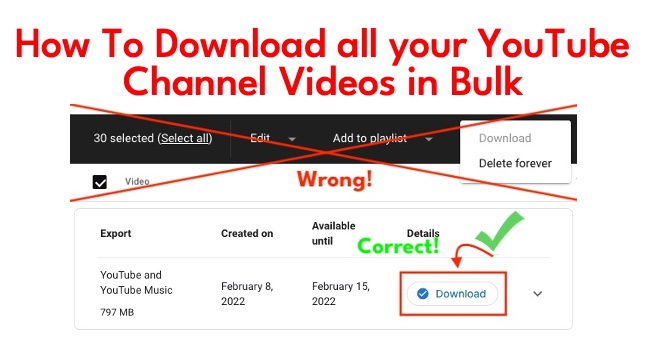 If you attempt to download all your YouTube channel videos at once in YouTube Studio (select all -> More actions -> Download) you notice the Download option greyed out.

To download all your YouTube videos at once, use Google Takeout. Google Takeout allows you to export Google service data - including YouTube videos, to a downloadable archive file. See below.
How to Export all your YouTube Channel Videos using Google Takeout
1. Login to your YouTube account you want to export all your videos from.
2. Go to Google Takeout here.
3. Under Create A New Export scroll down until you see YouTube and YouTube Music.
4. Select YouTube and YouTube Music.

5. Select All YouTube Data Included and choose videos if you only want to export your YouTube videos.
Note: Google will export your uploaded YouTube videos in the original format / MP4. Per Google, either your originally uploaded videos or a high-quality transcode.
6. Click Next step.
7. Select export frequency, file type & size, then click Create export.
Depending on the size and number of videos your YouTube channel has, the process could take a few days. Google will email once your export is ready to be downloaded.
Google Takeout YouTube download example image:

To manage your Google Takeout downloads use this link.
Google will name your export(s) similarly: takeout-20220218T192655A-001
* Please use the comment form below. Comments are moderated.*
Comments
No comments made yet. Be the first to submit a comment