How to remove a "No channel" YouTube Account in Channel List?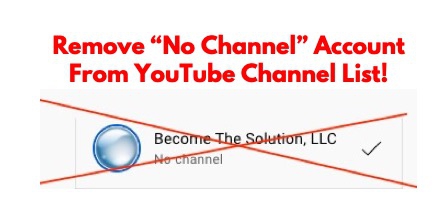 Do you see a channel titled as "No channel" in your YouTube Channel List? See YouTube Account or YouTube Channel List switcher links. When you select the No channel account in YouTube and go to YouTube studio it asks if you want to create a YouTube channel. Instead, you simply want to remove this channel from your YouTube channel list.
In our scenario, we moved a similar YouTube channel to the "No channel" YouTube account using a Brand Account. This caused our similar YouTube channel to merge into the "No channel" account and therefore remove the "No channel" account all together. A YouTube Brand account allows multiple people to manage it, if you want.
See our article on how to create a YouTube Brand account here.
* Please use the comment form below. Comments are moderated.*
Comments
No comments made yet. Be the first to submit a comment