Suddenly – "We have removed your channel from YouTube." What's next?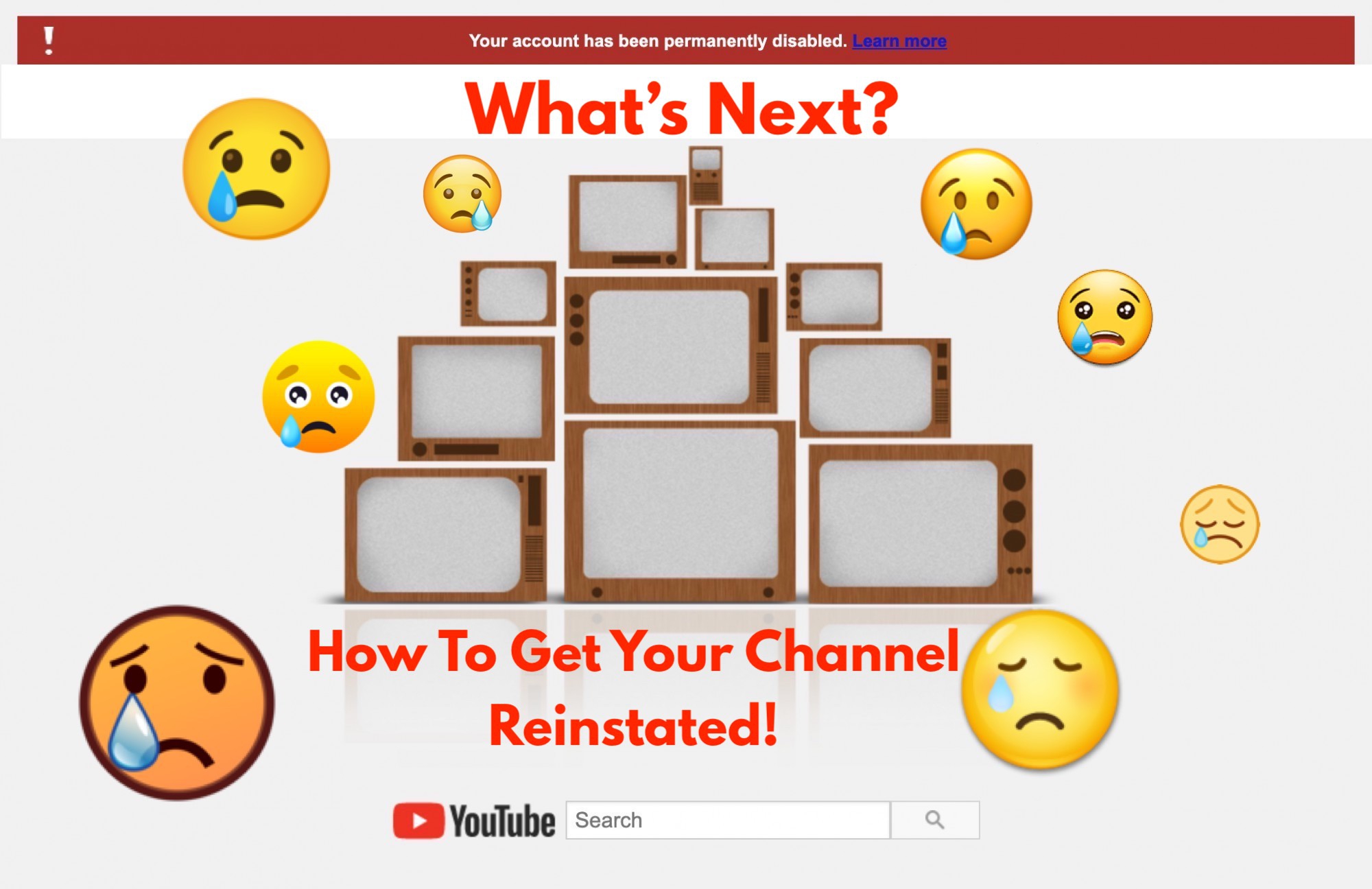 Did you receive an email from YouTube or login to your channel and discover your YouTube account was suddenly removed for violation of a YouTube policy?
In a recent example, we received an email from YouTube that our channel was removed for:
Spam, scams or commercially deceptive content are not allowed on YouTube.
The notice was a stunning surprise since our YouTube channel was nearly a year old, never received a copyright strike or warning, and was part of the YouTube Partner program. Additionally, our channel had around 100 videos ranging in lengths and over 1000 subscribers. It was gaining popularity significantly (views, subscribers and comments) in the last month leading to termination. Our YouTube channel was based on crypto currency mining showing different applications and profitability.
Below is a copy of the email YouTube sent us along with the message we received trying to login to our now terminated YouTube account.
YouTube Suspended Channel Email:
Subject: CHANNEL_NAME, we have removed your channel from YouTube.

Body: We have reviewed your content and found severe or repeated violations of our Community Guidelines. Because of this, we have removed your channel from YouTube.

We know this is probably very upsetting news, but it's our job to make sure that YouTube is a safe place for all. If we think a channel severely violates our policies, we take it down to protect other users on the platform - but if you believe we've made the wrong call, you can appeal this decision. You'll find more information about the policy in question and how to submit an appeal below.

What our policy says

Spam, scams or commercially deceptive content are not allowed on YouTube.

How this affects your channel

We have permanently removed your channel from YouTube. Going forward, you won't be able to access, possess, or create any other YouTube channels.

What you can do next

There are steps you can take if you want to appeal this decision:

Review YouTube's Community Guidelines and Creator Academy lessons.

Appeal here. Make sure to fill out the appeal form as completely as possible, including your channel URL:

If you have any further questions, please feel free to reach out to us here.

Sincerely,

The YouTube Team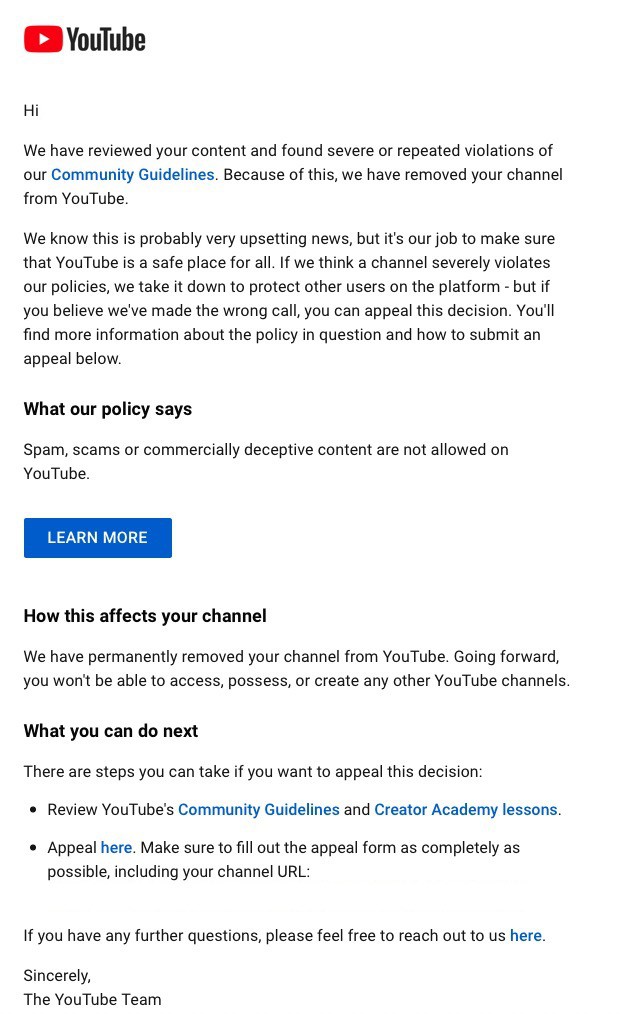 YouTube Account Banned Messages:
Your account has been permanently disabled.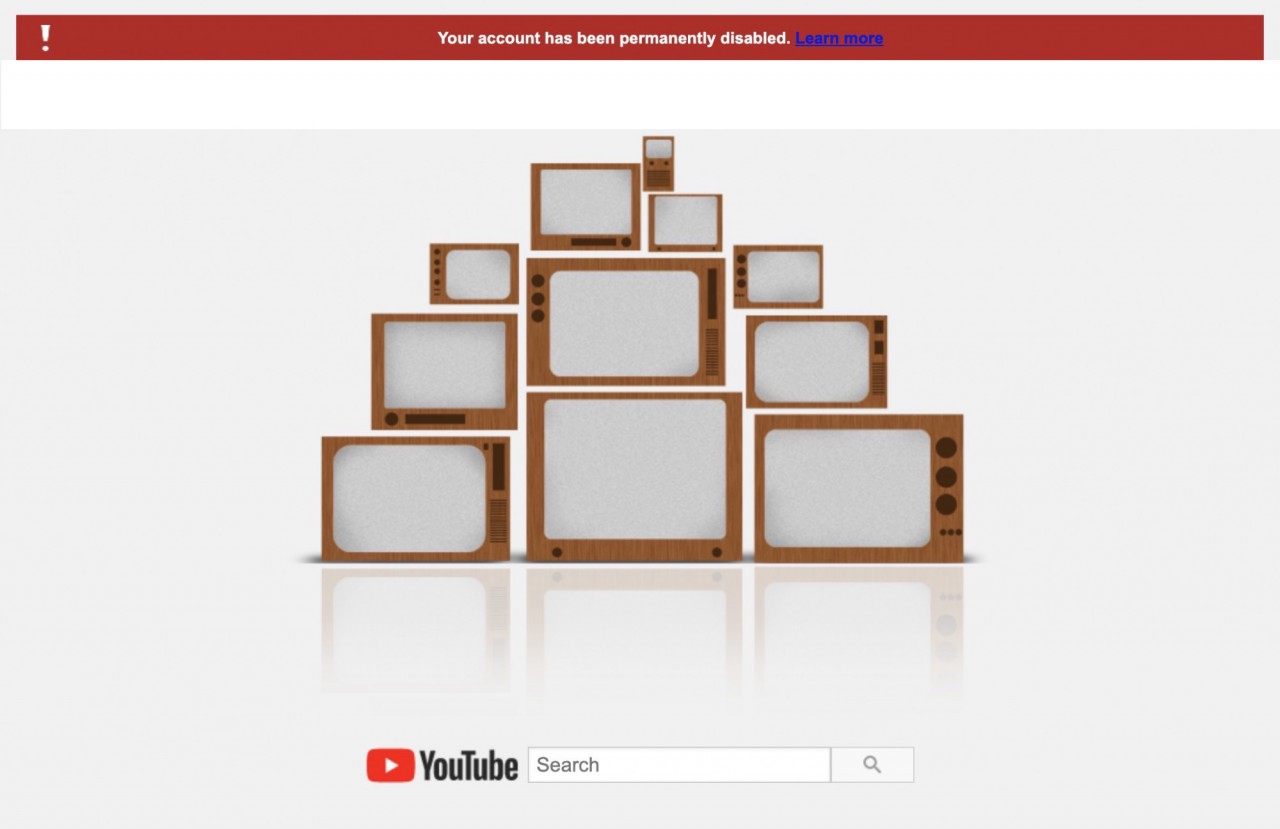 This account has been terminated due to multiple or severe violations of YouTube's policy against spam, deceptive practices, and misleading content or other Terms of Service violations.

Next Steps?
YouTube's email offered an opportunity to appeal their decision and for a chance to get back our suspended YouTube channel. The email contains a link to a YouTube appeal form, see here. Below is an example screenshot of the appeal form.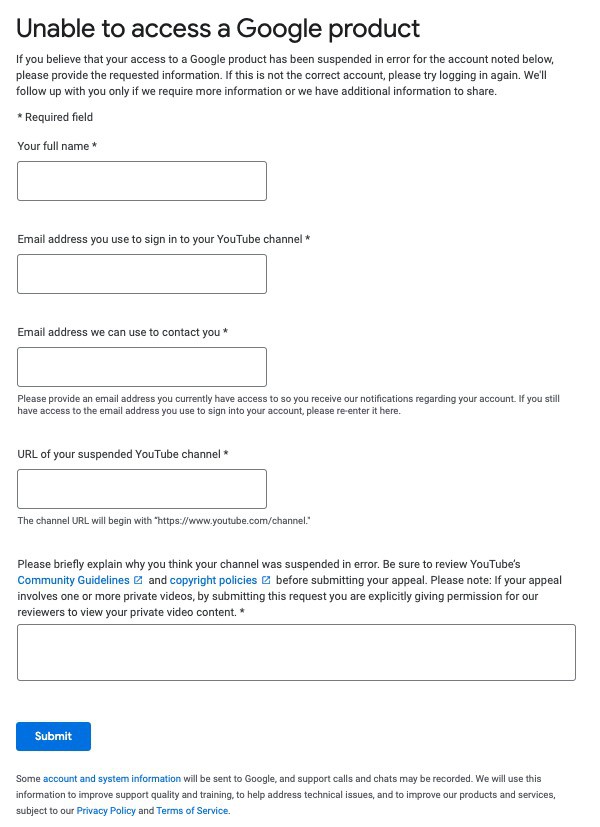 Within hours of receiving the notice our YouTube channel we terminated, we filed an appeal summarizing our channel was previously in excellent standing in that we never received a warning or copyright strike and had been part of the YouTube Partner program. At the time, we did not understand what caused YouTube to take such swift and harsh action against our YouTube channel.
Within a few hours of filing our appeal, YouTube reached out via email This email address is being protected from spambots. You need JavaScript enabled to view it. stating:
Your appeal was received as I check, and they have decided to keep your account suspended based on our Community Guidelines and Terms of Service. Please visit Community Guidelines for more information.

In you case, your account has been terminated due to multiple or severe violations of YouTube's policy against spam, deceptive practices, and misleading content or other Terms of Service violations.
After carefully examining actions we recently took on our YouTube channel prior to termination, we summarized what might have occurred:
*Our channel recently began receiving several "spammy" comments on our videos. We were reporting these comments as "spam" through the YouTube Studio creator app and manually removing them. We believed our channel was targeted by competing YouTube channels or spammers.
*In the week prior to our YouTube channel getting removed, we had uploaded similar videos with very similar descriptions. While in fact these videos were demonstrating different educational value, YouTube might have flagged the videos as misleading or spam. In this case, we would have expected a warning or copyright strike stating so.
We responded to YouTube Partner support via email with the information summarized above. In addition, we felt it was important to mention we own and manage several other excellent standing YouTube channels also part of the YouTube Partner Program and we are avid creators. We emphasized we carefully review all content we create and post on YouTube. We always follow and respect YouTube's Privacy and Terms.
YouTube responded:
To start, allow me to explain that we don't have a way to check those comments that you've reported as spam. YouTube will not terminate your channel because of spam comments made by other creators.
In addition, YouTube Partner Support continually referenced this article in response to our channel violation for spam. The YouTube article cites examples of spam abuse, but we did not receive a specific example of what our channel actually violated, so we are left to speculate. We asked YouTube Partner support in email to provide clarification on a specific video (if video(s) were the concern), their response:
As for your concern about the specific reason which resulted to "severely violating" the YouTube's Community Guidelines, please be reminded that YouTube doesn't provide editorial advice or specificity, hence the closest answer that we can provide is the article that we've been constantly sending you to review. As this may possibly missed the particular guideline that your channel/video(s) might have violated every single time.
We vigilantly believe since our YouTube channel excellent standing and part of YouTube Partner Program, we should at least be given a second chance and hoped for a more detailed explanation about our specific violation and we might be allowed to adjust our channel accordingly - especially since we never received a warning or strike on our channel prior. However, when we asked again in email, YouTube Partner support went silent. We were left frustrated, confused, and afraid.
The final email we received from YouTube Partner support about our channel appeal is below:
We have raised an internal appeal but and our internal team did a meticulous and thorough investigation on your channel.

Due to repeated or severe violations of our Community Guidelines, your YouTube account has been suspended.

Unfortunately, there's no other escalation aside from this.
After waiting a week, we tried filing a new appeal, but received a message:
We have looked into your request and found that you have recently requested an appeal. Please wait for the result of your current appeal. If your current appeal has been denied, please wait two weeks before filing a new one.
Although Google allows you to file multiple YouTube channel appeals at the moment, it won't matter much especially if your appeal was finalized such as ours per YouTube's email.
Next Steps Trying to get your YouTube Channel Restored
If you believe you did not violate YouTube's Terms of Service and suddenly had your YouTube channel removed, here are a summary of your options at the moment:
File your YouTube appeal. First, gather your facts. Ensure you mention and recent actions you took before your channel was removed. Make sure to also state where you think you went wrong – explain

why

and

how

. If you don't think your channel truly violated and YouTube terms, then ask for another review. Online reading shows some channels are getting accidently closed for certain terms YouTube does not like.
Post on the YouTube community form. Use their form to help you get started and getting feedback from the community. Give details about what your channel was about and recent actions you did on your channel before YouTube removed it.
If you are part of the YouTube Partner program, chat with a Google specialist to try and get additional details or status on your Google cases.
Email YouTube Google support. We were able to use Google's form to email YouTube by using appeal or dispute content ID claim Additionally, you can try to email YouTube directly from your YouTube channel registered email This email address is being protected from spambots. You need JavaScript enabled to view it.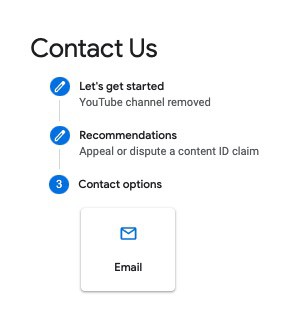 Use the Google YouTube support options page for additional contact options for finding additional information.
Please share with us your experience if you weresuccessful in getting your YouTube channel restored.