Why: Your Channel Is No Longer Eligible to Monetize. Learn to Reapply - YouTube

Did you receive an email from YouTube stating they reviewed your YouTube channel and you are no longer are able to monetize your YouTube channel videos? The YouTube email also informs you that your associated Google AdSense account to your channel will be disconnected.
To find out why YouTube removed the monetization feature from your YouTube account, go to your monetization settings here. You will see why your YouTube channel is not approved anymore for monetization. An example reason is below.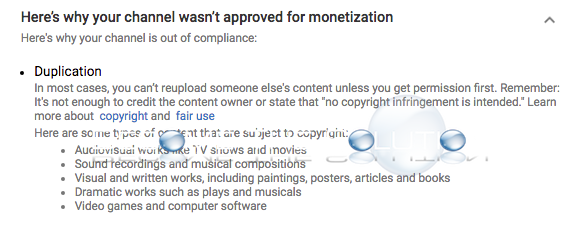 In most cases, you can re-apply to monetize your YouTube channel again in 1 month. To re-apply, visit your monetization settings page and click the reapply button.

During a recent review, our team of policy specialists carefully looked over the videos you've uploaded to your channel "" and found that they are not in line with our YouTube Partner Program policies. As of today, your channel is not eligible to monetize and you will not have access to monetization tools and features. Please go to your monetization page to read more about the specific policy our specialists flagged.
We have a responsibility to ensure our community is safe for creators, viewers and advertisers, which means sometimes making difficult decisions like this one. At the same time, we understand that everyone makes mistakes. That's why you'll be able to reapply for the YouTube Partner Program in 30 days. If you make changes to your channel you may be able to get your monetization features back.
What this means for your channel
You still have access to most other creator features, and can:
Upload videos
Edit or delete your videos
Communicate with your audience

You cannot:
Monetize new or existing videos
Receive AdSense payments for past YouTube revenue
Earn revenue from YouTube Premium, channel memberships, or Super Chat
Contact the YouTube Creator Support team

There is no change to how your videos are promoted in our search and recommendation systems.
How to monetize again
We want you to have a chance to monetize again, but to do that you will need to make some changes to your channel.
If you want to re-enter the program, you should start by going to the monetization page to read more about the policy your channel violated. Then review your videos against our YouTube Partner Program policies and our Community Guidelines. The next step is to edit or delete any videos that violate our policies.
In 30 days you'll see the option to reapply on the monetization page. If you reapply, our review team will carefully look over your content again. We will email you to let you know as soon as the process is complete (it may take up to several weeks). You can also check the status of your application on the monetization page.
Note that as mentioned in the Partnership Program Terms, the YouTube Terms of Service continue to apply to your use of the YouTube service even though your Partnership Program Terms are terminated.
* Please use the comment form below. Comments are moderated.*
Comments
No comments made yet. Be the first to submit a comment