Why: At-home COVID-19 tests have already been ordered for this address. (USPS)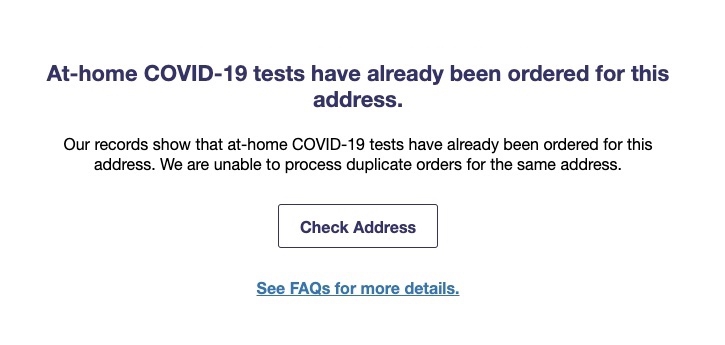 Did you try to order at-home COIVD-19 tests from the USPS website: https://special.usps.com/testkits but receive a message the tests have already been ordered for the address?
Our records show that at-home COVID-19 tests have already been ordered for this address. We are unable to process duplicate orders for the same address.
More from USPS here:
We apologize; only 1 order of 4 individual at-home tests can be placed for each residential address regardless of the number of residents in the household.
Please check with others in the household to determine if someone else placed an order. Once someone has successfully placed an order for a valid residential address, orders cannot be submitted again for that address. This increases the opportunity for others to access these free tests.
For other testing options, you may search for COVID-19 testing sites at https://www.hhs.gov/coronavirus/testing/index.html or by contacting your local or state health department.
You can file a Service Request at:
https://emailus.usps.com/s/the-postal-store-inquiry
(USPS.com > Help > FAQs > Contact Us > Email Us > USPS.com > The Postal Store®)
If you are unable to determine how the tests were originally ordered to the address you submitted and are worried you will not receive the tests, you can try to modify your unit or home address by adding an extra character to your address without modifying the original location, see examples below.
Examples for a unit numbered 2C:
"Unit 2C"
"2C"
"2-C"
"2CC"
Comments
No comments made yet. Be the first to submit a comment