Why: After macOS Time Machine restore, not booting? Folder with Question mark flashing.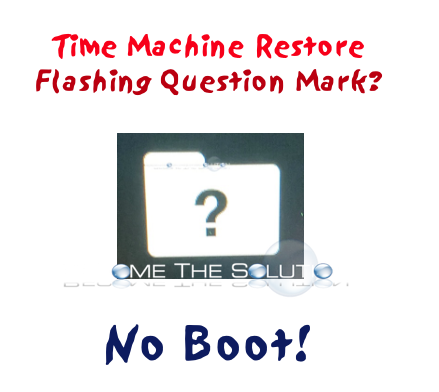 Did you recently restore your Mac from a Time Machine backup and upon booting up the first time, you see a folder with question mark flashing? If you reboot, the problem persists.
1. It is likely your Mac and Time Machine restore is secured by Secure Boot – Full Security and your Mac must be connected to the Internet in order for your Time Machine restore to boot successfully the first time.
2. If you are unable to connect to the Internet after rebooting because of the flashing folder and question mark, reboot your Mac again holding down the OPTION key. This will bring up Startup Manager and you will be able to connect to a WIFI network.
If the options above do not work, run Disk Utility first aid on your boot drive. Sometimes restored Mac permissions need to be fixed which can cause your drive to not boot up the first time. If this does not work, select your boot disk in Startup Disk utility in macOS recovery mode.
Also, see article An Internet Connection is required to verify this startup disk.
* Please use the comment form below. Comments are moderated.*
Comments This solved my problem, thank you!!!