How To: Mac Keep Plain Text Format After Copy Pasting

When you copy and paste text from a Web Browser, Word Document, or anything else, Mac OS X is intelligent enough to keep the same formatting (font, size, color, hyperlinks, etc.) of the text from where you copied it from. This can be convenient or a pain, depending on what you want. There is an easy trick to quickly remove formatting from copied text so you can paste it in the same format you are working inside your document. To copy anything and keep it in plain text format, do this.
1. Open TextEdit in Mac Applications -> TextEdit.app
2. Click Format -> Make Plain Text to make everything we paste here pure text format.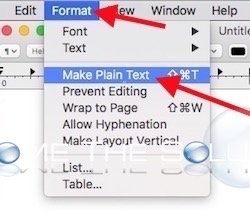 3. Now, copy something with formatting in it (funky font, weird size, etc) and first paste it into our new plain text document – like below.

VS.

So, keep TextEdit application handy in your Mac dock. When you need to copy/paste plain text, open TextEdit, convert a new document to plain text, then copy/paste into there first to convert any text to plain text always.
* Please use the comment form below. Comments are moderated.*
Comments I Always want to copy text without format so I ended up getting an app for that. It's called Plain Text Copy. Does just that - copies text without the formatting. In case anyone needs it, it's here: https://itunes.apple.com/se/app/plain-text-copy/id1297888715. Just wanted to share that. :-)