Fix: DNS_PROBE_FINISHED_NXDOMAIN - Google Chrome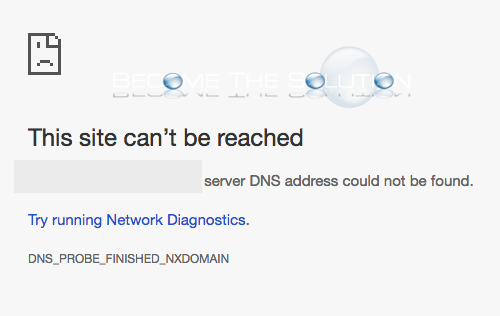 You may receive the following Google Chrome error while trying to browse a website.
The site can't be reached.
"" server DNS address could not be found.
Try running Network Diagnostics
DNS_PROBE_FINISHED_NXDOMAIN
The error means that Google Chrome was originally successful resolving the web address URL (DNS) to the website you were trying to browse, but could not server the request because your Internet connection dropped or failed.
This error is seemingly common when you are connected to a Wireless Network. You may have dropped out of range from your Wireless network or the Internet on the Wireless Network became temporarily unavailable. Simply try re-browsing or re-connecting to the Wireless or Wired network your computer is connected. Eventually, the error should go away and your web page should load in Google Chrome.
Reset Google Chrome
1. Type this into Google Chrome.
chrome://flags/
2. In the top corner you will see Reset all to default. Click it.
3. You will see a message at the bottom confirming: Your changes will take effect the next time your relaunch Google Chrome. You can safely click Relaunch now.
If the above solution does not work, let us know by using the comments form below.
* Please use the comment form below. Comments are moderated.*
Comments
No comments made yet. Be the first to submit a comment