Word Experienced a Serious Problem with The Add-In
You may receive an error in Microsoft Word about a problem with an add-in after attempting to open a document.
Word experienced a serious problem with the 'xxxxx' add-in. If you have seen this message multiple times, you should disable this add-in and check to see if an update is available. Do you want to disable this add-in?
Check to see if an update for the add-in is available by looking on the software vendors website.
Alternatively, you can attempt to re-load the add-in in Word be disabling it and re-enabling it again.
Open Microsoft Word.
Go to File -> Options -> Add-Ins -> Manage Disabled Items -> Go and re-enable the add-in.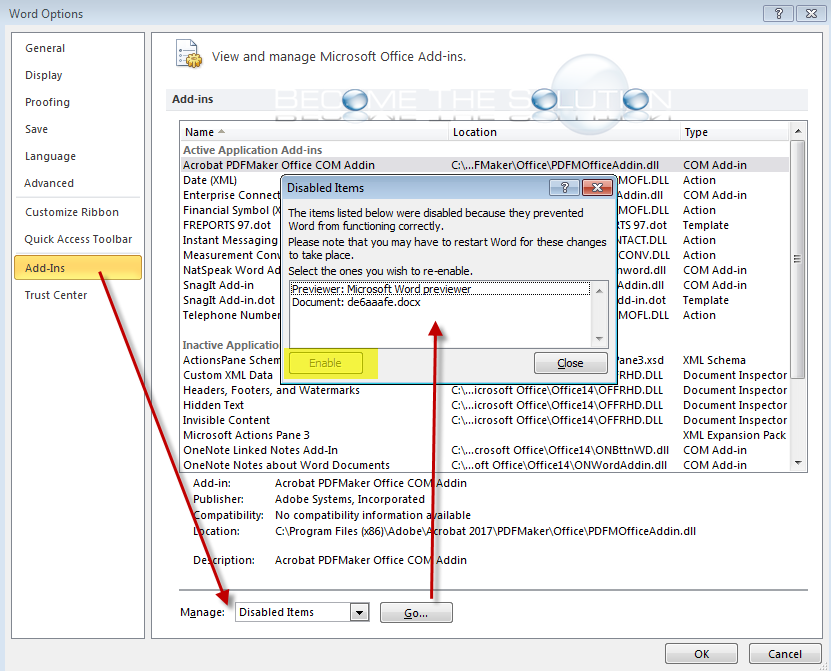 If this still does not fix the add-in, you can perform a repair on Microsoft Office in attempt to fix any corrupted installation files with Microsoft Word and the add-in. Go to Control Panel -> Programs and Features. Find your version of Microsoft Office and right-click -> Change and choose repair.
Related Posts