If you have a Windows file or folder that is locked, you can easily find out what process is locking it and forcefully unlock that file or folder. Follow the steps below.
Download Process Explorer for free by Microsoft.
Go to File -> Show Details from All Processes. (Process explorer will restart and run as administrator, you will be prompted)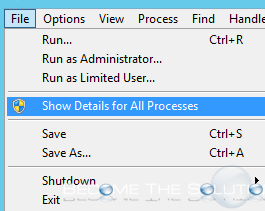 Go to Find -> Find Handle or DLL…

Type in the name of the file (include file extension) or folder name that is locked or you believe is locked.

Select the file in search. It will be highlighted.

In the bottom of the main Process Explorer Window, you will see the same file highlighted. Right Click the file and choose Close Handle.
You will receive a warning. If you are unsure of what closing this handle will, do not proceed.

* Please use the

comment

form below to let us know if you experience issues, have questions, or can provide solution. We want and encourage feedback. *