Fix: This Document Requires Global Security Policy to be Disabled - Adobe Acrobat
If you attempt to open an Adobe PDF file, you may receive the following error message.
This document requires global security policy to be disabled.
Please go to Edit -> Preferences -> Javascript and uncheck the "Enable global object security policy" checkbox. NOTE: In some versions of Adobe Reader you may need to enable Javascript first.
In Adobe Acrobat, go to to Edit -> Preferences -> Javascript and uncheck enable global object security policy checkbox.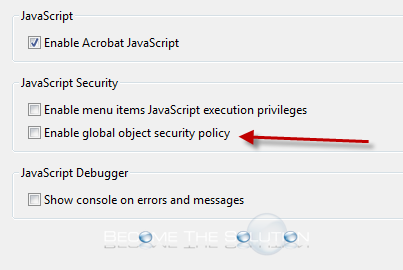 After, you can open your PDF file in Internet Explorer or Acrobat without receiving this error message.