Fix: Group Policy Management - The System Cannot Find the File Specified
In Windows Group Policy Manager, you may see policy object with [Name not available] in the viewing list. In addition, when you click on one of these items, you may receive an error message.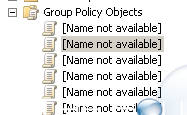 Group Policy Management
The system cannot find the file specified.
Finally, you may also see an error code under the settings tab of the group policy object.
Error code = 80131600

Refer to this Microsoft article here.
Refer to the Microsoft TechNet article on Morphed Folders here.