Missing: YouTube Upload Defaults No Monetization Option
It seems the default upload option for monetization is missing for some YouTube accounts. If you follow this Google support documentation and do not see an option for Monetization, you are affected.
Google support has confirmed an issue with this, via an email to their support team.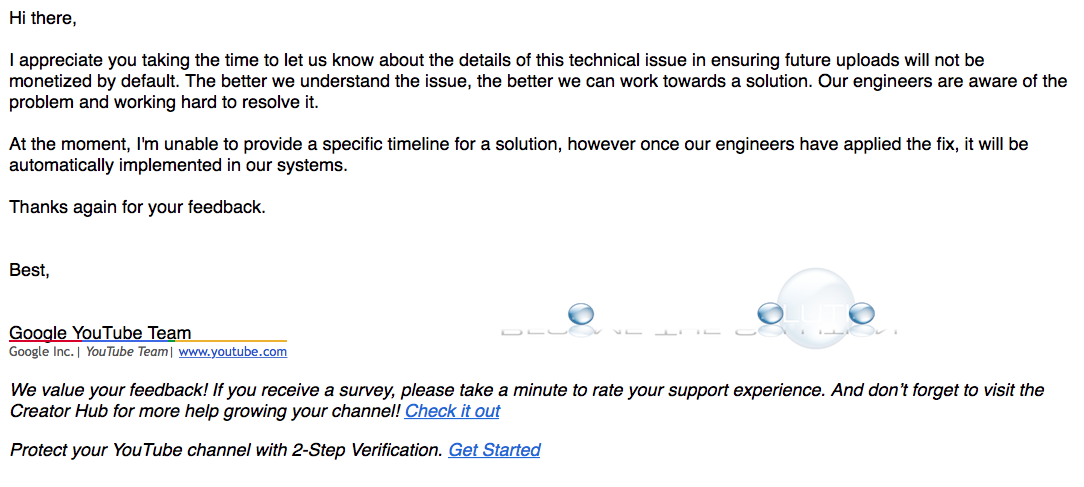 They are currently aware of the issue and are working to resolve it. We were very happy with the level of Google support gave us directly and how the acknowledged and issue on their end. It speaks so highly of them. It's also extremely refreshing when you can help make YouTube a better place for all!
As a workaround, after we upload videos we disable the monetization immediately following. You'll still get emails from YouTube though if your content cannot be monetized, so be sure to disable the monetization as soon as possible.
Sign in to your YouTube account.
In the top right, click your account icon -> Creator Studio.
On the left, select Video Manager.
Select the video(s) where you want to turn ads off. You can select all your videos by clicking the checkbox at the top of the screen next to "Actions."
Click Actions -> More actions -> Monetization.
Select Off.
Click Submit.
If you are also experiencing this issue, please let us know in the comments. We would like to know how widely this is affecting YouTube accounts.