Easy: Change & Print Microsoft Word Document Background Color – Mac OS X

You can change the background color of a Microsoft Word document (for Mac) to any color you want and print it. Follow these steps (latest version of Microsoft Word).
Click the Design tab.
Select Page Color and a color to apply to your Word Document.
* In order to PRINT your Word Document with a background color, follow the steps below. *
Go to Word -> Preferences.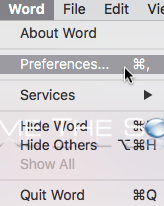 Under Output and Sharing select Print.

Ensure Print background colors and images is checked.

Now, you can print the color background you just set for your Mac Word document!
* Please use the comment form below. Comments are moderated.*
Comments
No comments made yet. Be the first to submit a comment