Apple Remote Desktop iPhone (iOS Apps Secure / Non-Secure)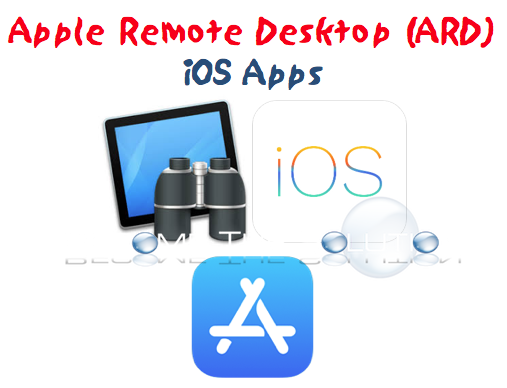 (ARD) access to their Mac OS machine 24/7 from anywhere in the world and at all times. In order to avoid carrying a laptop everywhere, sys admins prefer remote desktop access on a mobile device. Luckily, there are several iOS apps that connect natively to your Mac OS computer running Apple Remote Desktop (over port 5900).
Free iOS Apple Remote Desktop Apps (Non-Secure Connections)
Download: VNC Viewer – Remote Desktop iOS App
This lightweight, free, and easy to use iOS Apple Remote Desktop app allows you to quickly create a screen sharing connection to your Mac OS computer using Apple Remote Desktop (ARD) protocol. The downside is the connection will always be unsecure and unencrypted.
*Connect with ease via our cloud service to computers running VNC Connect.
*Make direct connections to computers running VNC-compatible software from third parties, for example Apple Screen Sharing (ARD).
*Backup and sync your connections between all your devices by signing in to VNC Viewer on each one.
*A scrolling bar above the virtual keyboard includes advanced keys such as Command/Windows.
Support for Bluetooth keyboards.
Paid iOS Apple Remote Desktop Apps (Secure Connections)
Download: Remotix - Remote Desktop iOS App
* Full set of multi-touch gestures to pan, zoom, drag, right click & scroll
* Point-and-click or touchpad-mode remote desktop control
* Hardware and bluetooth keyboard support, including F keys, cursor and modifiers
* Swiftpoint GT and Citrix X1 mouse support
* Complete international character input
* Extended keyboard to access copy/paste, function and navigation keys
* 3D Touch for right click
If you are connecting to Mac or PC with NEAR:
* Hardware accelerated H264 based remote desktop experience;
* Three quality modes, including "smooth" - for video & games.
* Automatically adapts to changing network conditions;
* Clipboard synchronization;
* Remote sound transfer;
* Login using system credentials or personal access code;
* Curtain mode & remote screen locking (Mac only).
If you are connecting to a Mac with Screen Sharing:
* Five quality modes, including adaptive for average and slow Internet connections
* Multi-display configuration selection, combined or each display individually
* VNC password and Mac OS X authentication methods
* Greatly improves interaction speed with server-side picture scaling,
* Multi-language keyboard input using "Keyboard through Clipboard" mode
* Remote screen locking
* Access to hidden dock or menu
If you are connecting to Windows over RDP:
* RD Gateway & load-balancing configurations
* On-the-fly resolution and scale change
* Sound playback & recording
* Real time network speed adaptation for the best performance over 3G or LAN
* Secure NLA authentication
* RDP over SSH
If you are connecting to Windows or Linux over VNC:
* Tested and works well with UltraVNC, TightVNC, RealVNC, VMWare, TigerVNC, x11vnc and other servers
* UltraVNC Windows Logon authentication
* TLS encryption and VeNCrypt authentication (ProxMox)
* x11vnc -ncache mode support
* Please use the comment form below. Comments are moderated.*
Comments
No comments made yet. Be the first to submit a comment