Fix: SEC_ERROR_UNKNOWN_ISSUER – Firefox Connection Not Secure
While using Mozilla Firefox to browse a website, you visit a website using an SSL certificate and receive an error that your connection is not secure. If you click learn more, you see the following message below.
"" uses an invalid security certificate.
The certificate is not trusted because the issuer certificate is unknown.
The server might be sending the appropriate intermediate certificates.
An additional root certificate may need to be imported.
The certificate expired on ""
Error Code: SEC_ERROR_UNKNOWN_ISSUER
The following fix is not recommended but will allow you continue browsing the website without receiving any further SSL errors. If you submit information to this website, understand it will not be encrypted or secured.
Click Learn more…
Click Add Exception…

The Location will automatically fill in for the website. Click Confirm Security Exception at the bottom of the screen. We are telling Firefox to ignore this websites SSL certificate errors and allow us to browse it without receiving any more warning messages.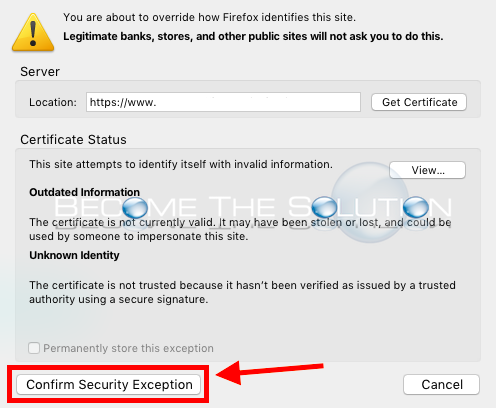 Remove Firefox Security Exception
Browse the website you created your Firefox security exception for.
In the top left corner, click the security lock.
Click Remove Exception.