How To: Get Google Chrome Multiple Bookmark Bars
Are you looking to add 1, 2, or multiple bookmark bars to Google Chrome? Luckily, there is a Google Chrome extension to allow you to add up to 8 separate Bookmark Bars. The extension installs a toolbar icon to toggle between the extension bars.
1. Download and Add to Chrome SwitchMark from the Google Chrome Store Extensions website.


2. By default, SwitchMark adds 1 additional bookmark bar once you install it. Go to Bookmarks -> Bookmarks Manager You will have a bookmark folder named SwitchMark and subfolders by numbers. The sub numbers are your additional bookmark toolbars.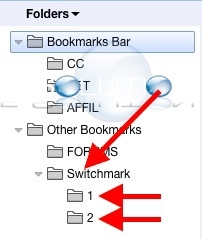 3. To toggle between your multiple Google Chrome Bookmark Bars, click the Switchmark icon in your toolbar.