SpyDialer - Get Informed of Suspicious Callers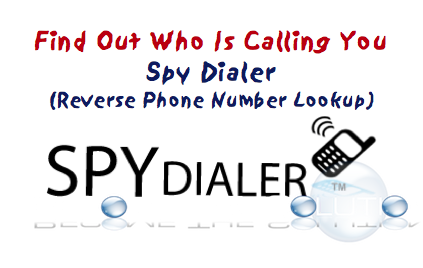 SpyDialer.com gives anyone the opportunity to find out about any nationwide number. It offers 3 options to find out more information on a number including
Hear number voicemail

Name Lookup

Photo Lookup

The most useful feature is voicemail listening. It will dial the number anonymously and option right to voicemail. This is useful if the voicemail setup on the number is a human identifying themselves.
It will search social media for the phone number and pair a picture(s) if found. I've never seen this actually work though.
The name lookup hasn't been useful either, but sometimes it's geo-location is accurate and will tell you the carrier of the phone.
Don't left unknown from harassing callers!
* Please use the comment form below. Comments are moderated.*
Comments Everyone receive calls from unknown numbers and these calls are annoying everyone but no need to fret. There are many reverse phone number lookup sites and application on the internet to your rescue. But in many of the reverse phone number lookup sites, the search will only the originating location of mobile number. This may be of no use to you. Finding the name, email or address is what you may want. It is exactly what want to find with phone number search. There is site spy dialer which is the best site I can use. I had search a lot of tools and application but this one is very good and gives you the best solution to find out the information of spam number. Spy Dialer will reveal phone number owner details, picture, address, and the outgoing voicemail message. You will also see any other available information about the individual. Whatever you search for, you will receive more details about the unknown. Try Spy Dialer for free today http://www.spydialer.cc/
Everyone receive calls from unknown numbers and these calls are annoying everyone but no need to fret. There are many reverse phone number lookup sites and application on the internet to your rescue. But in many of the reverse phone number lookup sites, the search will only the originating location of mobile number. This may be of no use to you. Finding the name, email or address is what you may want. It is exactly what want to find with phone number search. There is site spy dialer which is the best site I can use. I had search a lot of tools and application but this one is very good and gives you the best solution to find out the information of spam number. Spy Dialer will reveal phone number owner details, picture, address, and the outgoing voicemail message. You will also see any other available information about the individual. Whatever you search for, you will receive more details about the unknown. Try Spy Dialer for free today www.spydialer.cc/