Copy Multiple E-Mail Addresses Into Mac Mail
Open Excel and paste the email addresses into the A column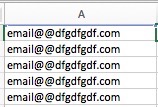 Click on the B column and add this text into the excel formula bar: =A1&","

Double click the small dot in the bottom corner of the B cell.

Your email addresses will now all move over with commas – which is how Mac Mail formats and validates email addresses when you add them. You can now copy and paste the B column into mail email field.