Fix: Outlook Closes After Minimizing
You may notice
Microsoft
Outlook
closes
in the Windows taskbar after you minimize it. The Outlook icon does not show any windows around it as if you minimize, rather it looks like Outlook quit. See example screenshot below.

To fix this, you must disable "Hide When Minimized" in the Outlook right corner taskbar.



1.
With Microsoft Outlook open, right click the Outlook icon in the bottom right


2.
Uncheck Hide When Minimized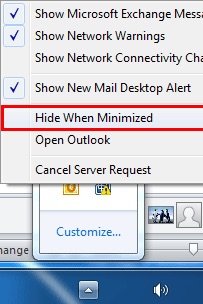 Now, Microsoft Outlook will not appear closed when you minimize the window.