Fake YouTube Support Email (Complaint About Spam Videos?) – Phishing Attempt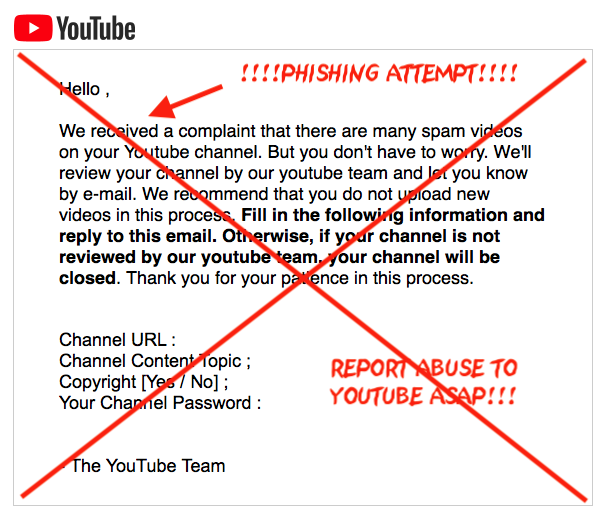 Attention YouTube channel creators – there is an email phishing scheme going around online and you need to be made aware. YouTube channel account holders are receiving emails claiming to come from 'YouTube support' about their channel containing spammy videos and to not upload new videos while 'YouTube' supposedly investigates them.
An example of the YouTube phishing email reads below (Poor English grammar and punctuation included):
Hello ,
We received a complaint that there are many spam videos on your YouTube channel. But you don't have to worry. We'll review your channel by our youtube team and let you know by e-mail. We recommend that you do not upload new videos in this process. Fill in the following information and reply to this email. Otherwise, if your channel is not reviewed by our youtube team, your channel will be closed. Thank you for your patience in this process.
Channel URL :
Channel Content Topic ;
Copyright [Yes / No] ;
Your Channel Password ;
The phishing email uses similar language of an official YouTube communication; such as copyright strike emails YouTube sends to account owners uploading copyrighted content. The most concerning part of this phishing email is when it asks for your channel password – so stop right there. YouTube will never ask for your account password! This is how we caught this email to be a phishing attempt.
The email asks for your account password. (In most cases, you should never be asked to provide a password for anything by email)
This example phishing email originates from a domain unrelated to YouTube or Google. (You can also view email headers to understand where an email originated from to help prove it's authenticity).
Youtube.Spam.Control1 [at] outlook [dot] com
The email footer contains a scrambled address unrelated to Google or YouTube.
(Ironically, the phishing email in this example had a report spam hyperlink, which actually pointed back to YouTube's official report spam detection center.)
If you believe you received a phishing e-mail claiming to represent YouTube, you should always report it. To report phishing emails in Gmail, follow the steps below.
Note: Performing the steps below will send the email to the Gmail team to review and it will disappear from your inbox. Make a copy of the email first if you would like to retain it.
Login into the Gmail account you received the phishing email on using a Desktop computer.
Click the 3 dots at the far right of the email. Select the Report phishing option.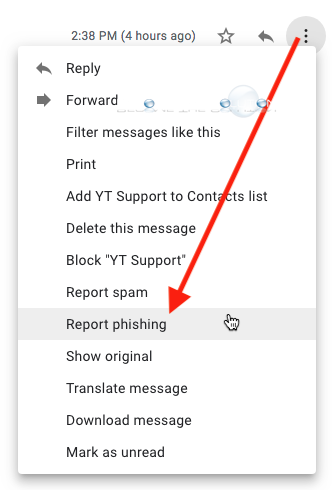 Confirm to report the phishing message email to Gmail.
Phishing is a form of fraud in which a message sender attempts to trick the recipient into divulging important personal information like a password or bank account number, transferring money, or installing malicious software. Usually the sender pretends to be a representative of a legitimate organization.
If you believe this message is a phishing attack, you can report it to our abuse team and help us thwart this attack and others like it. Reporting this message as an attack will send the entire message to our team for review.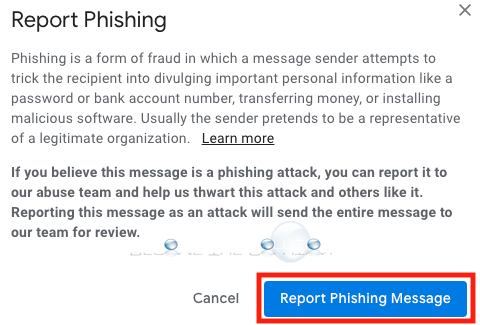 If you have received a similar phishing email, please leave a comment below.

* Please use the comment form below. Comments are moderated.*
Comments
No comments made yet. Be the first to submit a comment