Delivery Date Change for Your Amazon.com Order (Shipment Delay)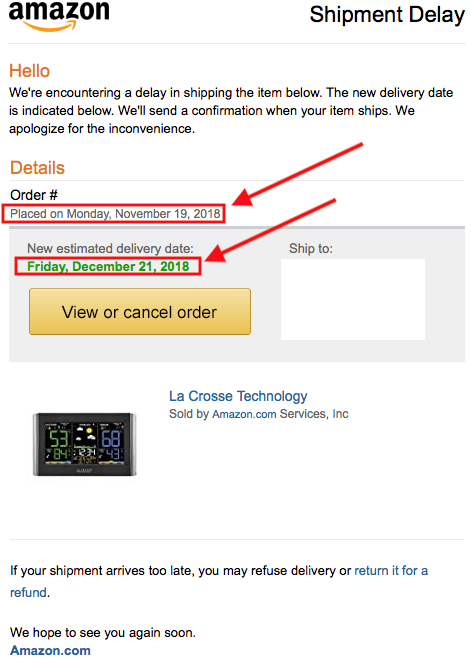 Did you receive an email from Amazon.com about a delay in shipping for your item and a new estimated delivery date even though your order had a guaranteed delivery date with your Amazon Prime membership?
We're encountering a delay in shipping the item below. The new delivery date is indicated below. We'll send a confirmation when your item ships. We apologize for the inconvenience.
If your shipment arrives too late, you may refuse delivery or return it for a refund.
This seems to happen more frequently during busy times like Christmas. You have a few options before you start fuming.
Contact Amazon.com (here) customer service and request a refund. Since you were guaranteed a delivery date, Amazon may give you a small credit but you will be forced to cancel your order.
Wait out the delayed delivery and then you can choose to return it to Amazon.com, should it arrive too late.
For more information on Amazon's guaranteed delivery promise, read on their website here.
* Please use the comment form below. Comments are moderated.*
Comments
No comments made yet. Be the first to submit a comment