Can eBay Auto Deduct the Final Value Fee from an Item Sold?

Whenever you sell something on eBay, there is a
final value fee
that you will be invoiced for on the sold item. This is a collective fee of
10%
or a maximum of a
$750
fee per item as outlined by eBay
here.
At the end of each month, eBay deducts your
primary
funding
account
(around the 23
rd
)for all final value fees accrued that month.
Active eBay sellers might sell 100's items in a month accursing a substantial final value fees on all those items. You might be "surprised" when you owe eBay several hundred dollars all of a sudden at the end of the month and see your primary funding account suddenly go negative. A truly unpleasant surprise for all the selling hard work you put in.
So…can eBay automatically deduct final value fees immediately at the time of sale for your item? No.
However
, you can make a final fee payment to eBay
immediately
after you sell your item. This way, you can pay with the funds you received from your sold item immediately and never worry about final value fees popping up down the line.
1. Sign into eBay.


2.
Go to eBay
Account
tab.

3.
On the left side, scroll down to
Seller Account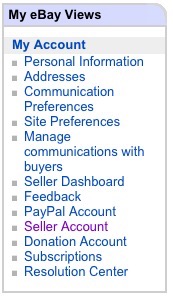 4.
Scroll all the way to the bottom and you will see
make a one-time payment
for eBay seller fees

5.
The next screen will show you ways to pay:
PayPal, Direct Pay, Credit Card,
or
Money/Check Order.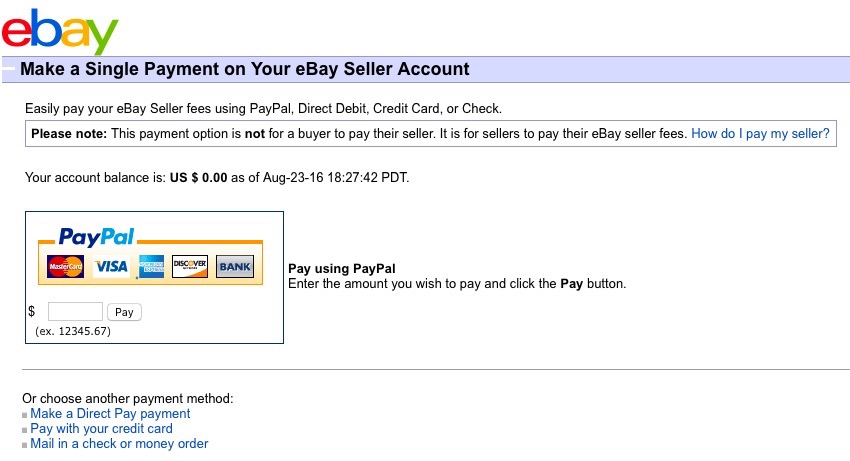 * Please use the comment form below. Comments are moderated.*
Comments
No comments made yet. Be the first to submit a comment