Rename File With Period Dot . In Mac X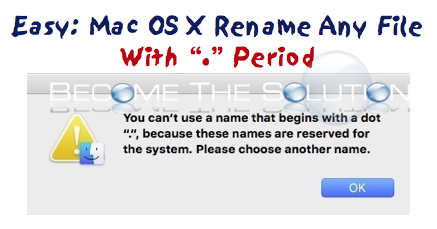 You need to use Mac X Terminal to rename any file with a "." period in front of it. To do so, follow these steps.


1.
Open Terminal in Mac X Utilities folder


2.
Type: cd /path/to/current/file-to-rename (you can drag and drop the path too into Terminal window)


3.
Type: mv "file-to-rename" .file-to-rename


4.
The file will be renamed with a period or dot in front of it. Keep in mind the file will by hidden now. You will need to show hidden files to reveal the file again.



* Please use the comment form below. Comments are moderated.*
Comments
No comments made yet. Be the first to submit a comment