Fix: Error 0x80070057: The Parameter is Incorrect – Outlook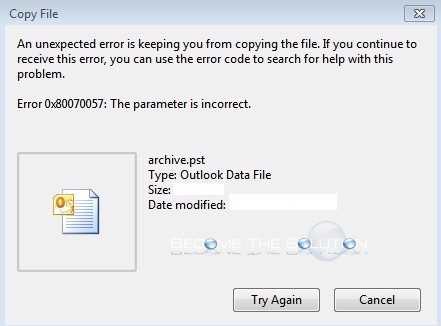 When opening Outlook, you receive the following error.
An unexpected error is keeping you from copying the file. If you continue to receive this error, you can use the error code to search for help with this problem.
Error 0x80070057: The parameter is incorrect
The error is related to the relevant location of your PST file. Verify the following. Also, try to cancel and re-open Outlook.
1. You are using a Microsoft PST file compatible with the latest version of Microsoft Outlook.
2. Verify the location of your current PST file is relevant. There are also known issues if you are dual-mapping drives using applications such as Shineydrive.
* Please use the comment form below. Comments are moderated.*
Comments
No comments made yet. Be the first to submit a comment