VirtualBox Mac OS Kernel Panics: VBoxNetAdp 5.2.22 Kext
It appears the Mac OS High Sierra 10.13.6 2018-003 security update conflicts with several 3rd party drivers and hardware. When you installed this security update, Mac OS may have automatically disabled Oracle VirtualBox extensions in Security & Privacy. Several users are reporting online VirtualBox extensions are causing kernel panics with their Mac. The result is your Mac rebooting on kernel panics randomly whether or not you are using the VirtualBox application. If you open your Mac kernel panic report, you will see the last loaded kexts similarly shown below.
org.virtualbox.kext.VBoxNetAdp 5.2.22
org.virtualbox.kext.VBoxNetFlt 5.2.22
org.virtualbox.kext.VBoxUSB 5.2.22
org.virtualbox.kext.VBoxDrv 5.2.22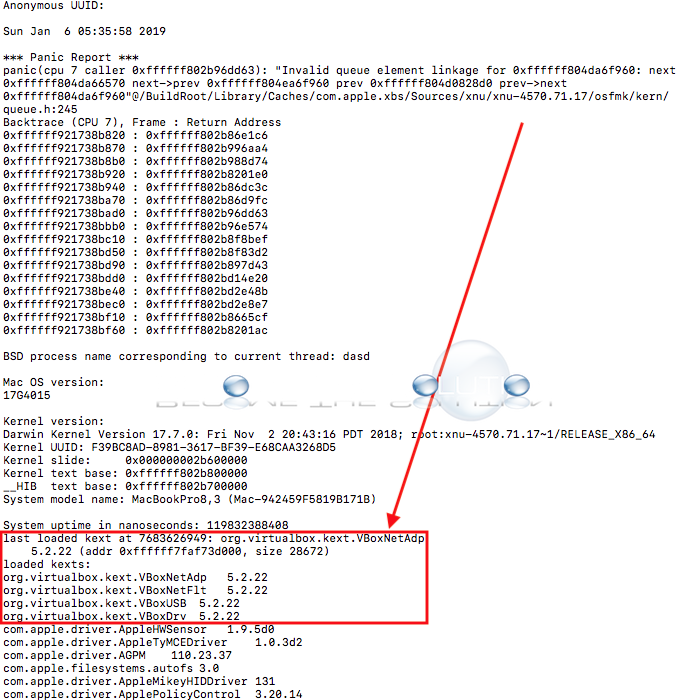 If you are unable to recover from a Kernel Panic, safe boot your Mac (hold down the shift key while powering on) and use an uninstaller such as AppCleaner to completely remove VirtualBox. Remember to backup your VirtualBox VM's first.
Until an update is released for the 5.2.22 VirtualBox extensions, you may want to install VirtualBox 6 here.