It is possible to take a screenshot in
Mac X
and annotate the area in form of a circle using
Mac X preview
.
1. Using Mac X Preview or 3rd party app, take your screenshot.


2. Open your newly created screenshot in Mac X preview.


3. Go to View -> Show Markup Toolbar


4.
In the top left corner select the
Elliptical Selection
tool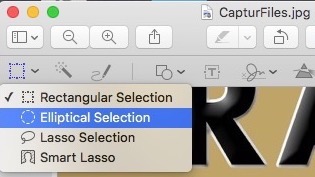 5.
Draw your circle over the area you want a circular or oval screenshot

6. Copy/Paste the selection into a new file in preview (you can control + copy the selection it will paste into a new file when you go to paste new)


Enjoy your
circular oval
screenshot taken in Mac X Preview!