Fix: To Display the Webpage Again the Web Browser Needs to Resend - Internet Explorer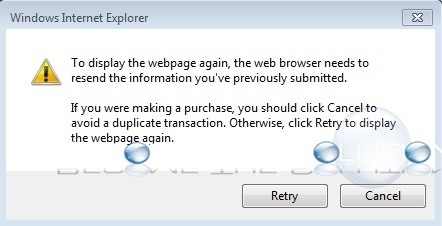 You may receive this message in Internet Explorer while browsing a web page.
To display the webpage again, the web browser needs to resend the information you've previously submitted.
If you were making a purchase, you should click Cancel to avoid a duplicate transaction. Otherwise, click Retry to display the webpage again.
You are trying to render the same web page in another tab or browser in Internet Explorer. Verify you don't have any other IE windows open with the same information. If you do, take action to close or complete your actions in that window so as to not overwrite in the current window.
* Please use the comment form below. Comments are moderated.*
Comments
No comments made yet. Be the first to submit a comment