Fix: The WebEx Application Has Encountered a Problem and Needs to Close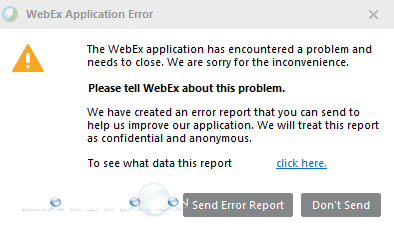 You receive the following error message using Cisco WebEx.
The WebEx application has encountered a problem and needs to close. We are sorry for the inconvenience.
Please tell WebEx about this problem.
We have created an error report that you can send to help us improve our application. We will treat this report as confidential and anonymous.
Re-opening the WebEx seems to be a fast and easy fix for most, however you should report the problem to Cisco directly by clicking click here in the message prompt.
Comments
No comments made yet. Be the first to submit a comment