You may stumble on a YouTube channel that was recently terminated (as YouTube states) due to copyright infringement. For any YouTube channel administrator, you are allowed 3 copyright strikes within a time-frame (usually 3 months). On the 3rd copyright strike within the time frame, your account will automatically be terminated. You won't be able to recover it either.
Today, more and more users are creating YouTube accounts to share material knowingly and sometimes unknowingly that is copyrighted. In either case, YouTube has loosened the rope on what you are allowed to upload today without forcing users to remove it over the years. It would appear that copyright holders that work together with YouTube will allow their material to be shared but you won't be able to monetize it. Additionally, you will receive a notice from YouTube, like below.
Hi user,
A copyright owner using Content ID claimed some material in your video.
This is just a heads up.
Don't worry, you're not in trouble and your account standing is not affected by this.
There are either ads running on your video, with revenue going to the copyright owner, or the copyright owner is receiving stats about your video's views.
Video title:
Copyrighted content:
Claimed by:
What's next?
If there are no problems, you don't need to take any action.
You don't need to deleted your video.
If something went wrong and the copyright owner or our system made a mistake, we have a dispute process. Only use it if you're confident you have the rights to use all the content in your video.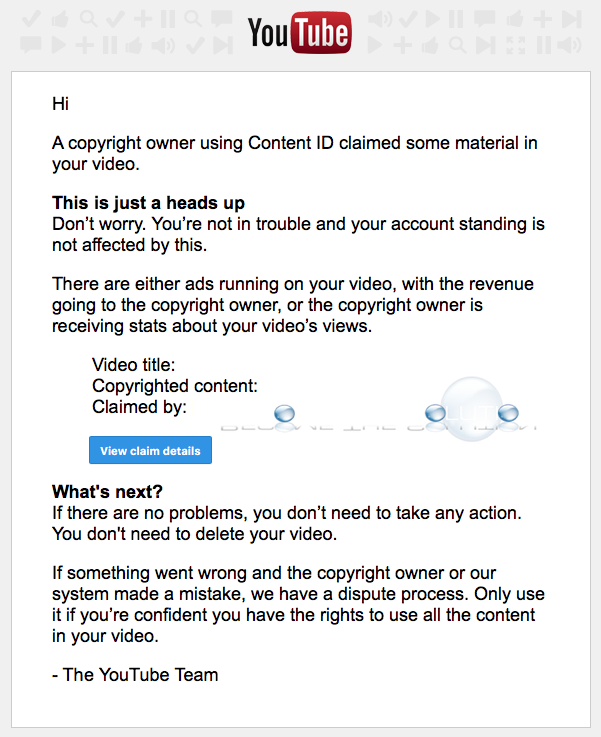 What Does This Actually Mean Then?
Basically, YouTube acknowledges you have uploaded copyrighted material that is already claimed in YouTube by a copyright holder. The copyright holder gets notified and has acknowledged and essentially said "ok" to being allowed to use their material on your YouTube channel. This does not count as a copyright strike. Although, the copyright holder can come back and strike you but this seems to not happen after, if at all.
What Happens When I Get a Copyright Strike?
If a copyright holder is notified you uploaded something of their's, they can strike you immediately. When you receive a copyright strike from YouTube, your video is removed and you receive a strike on your account. You won't be able to upload new videos until the copyright strike is removed from your account – typically 3 months. Additionally, you will need to complete YouTube copyright school class.
Read more on copyright strikes here.
See: Delete a copyright strike video doesn't remove the copyright strike.