If you are trying to report Copyright or Trademark infringement on Facebook, use this form to begin your report.
Facebook seems to be making it increasingly difficult for you to get ahold of them by hiding their contact forms deep within their website and masking their contact us questions with automated answers. This copyright form will allow you to get in touch with Facebook immediately as this is the process Facebook uses to take down Copyrighted material.
Once you begin your Facebook Copyright or Trademark report, you will see the following questions.
Go to here.
Select Copyright then Continue with your copyright report.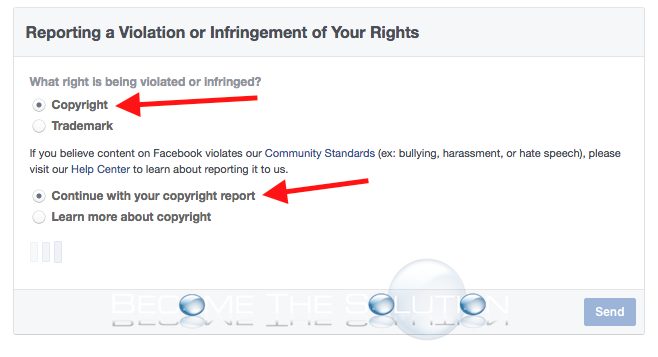 Select I found content which I believe infringed my copyright then select Continue with my copyright report.

Finally, fill out the Copyright report and click submit button at the bottom. You will receive a message: "Thanks for contacting Facebook. You should receive an email response shortly". You should immediately receive an automated email tiled Intellectual Property Report "#".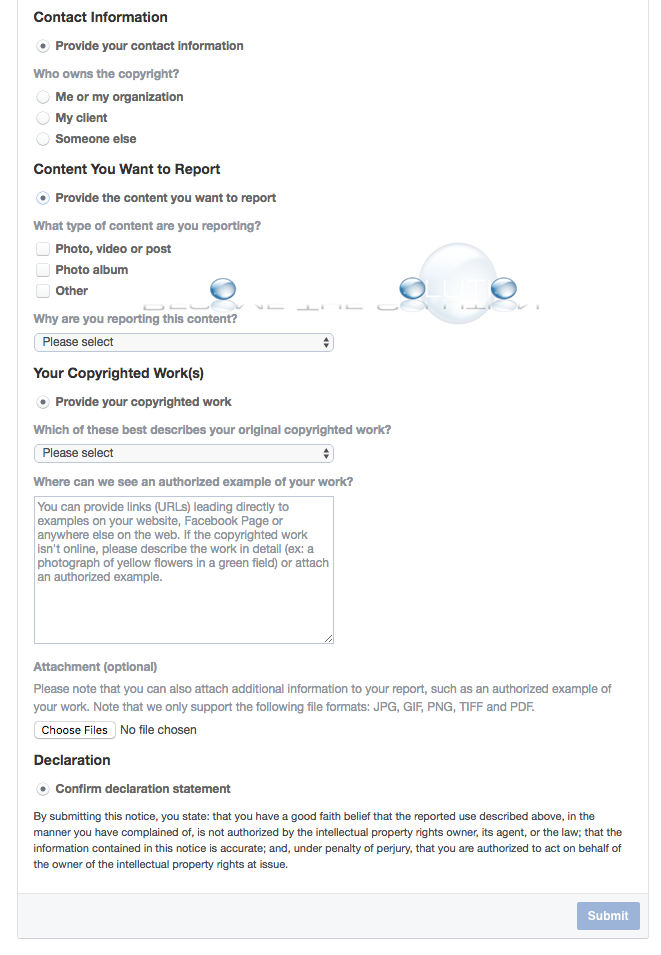 The Facebook Team received a report from you. For reference, your complaint number is "".
Please note that this channel is only for reports of alleged infringements or violations of your legal rights, such as copyright or trademark. If you filed that type of report, no further action is necessary. However, if you contacted us through this channel about another matter, you might not receive a response.
If you're not confident that your issue concerns intellectual property rights, please consult the Intellectual Property section of our Help Center for additional information:
IP Help Center: https://www.facebook.com/help/intellectual_property/
Please note that we regularly provide the rights owner's name, your email address and the nature of your report to the person who posted the content you are reporting. You may wish to provide a professional or business email address for contact by users.
Did you recently file a Facebook Copyright or Trademark report? Please let us know the steps you took, how long Facebook took to respond, and anything else to help others file their report successfully.