RoboCalls Coming from Same Area Code and Prefix – How to Deal with Them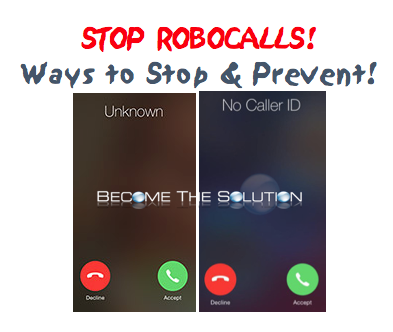 The RoboCalls are invading! Are they coming from the same area code, prefix, and in some cases, your own number? Over the last couple of months, we have seen a surge in RoboCalls coming from our private numbers area code and prefix. These "cleverer" calls trick you into picking up since it looks like a number you are used to seeing. Luckily, you can block a RoboCall originating from a real number. If a RoboCall originates for an Unknown number, you will not be able to block it as the originating caller ID is masked.
Block RoboCall iPhone
Go to Phone -> Recents and select the "i" next to the RoboCall number.
Scroll to the bottom and select Block this Caller.
To review your list of blocked callers, go to Settings -> Phone -> Call Blocking & Identification.
Here are some other ways you can deal with RoboCalls.
* Put your phone in Do Not Disturb mode and enable Emergency Bypass for callers only in your contact list (iPhone).
* Register your number at the National Do Not Call Registry here to help avoid unsolicited calls.
* For mobile phones, you can download a call blocking app. Search in your app store for these apps and read reviews thoroughly before installing anything like this.
* Check with your phone carrier about services they offer for call filtering. For example, AT&T offers call protect currently a free service you can subscribe to.
If you have been experiencing a barrage of RoboCalls and have other ideas on how to prevent them, please leave a comment below.
* Please use the comment form below. Comments are moderated.*
Comments Thank you for this article! I really appreciate the suggestions!