Easy: How to Release Yelp Business Page Ownership (Transfer Yelp Page to Another Admin)
If you want to transfer the ownership of a Yelp business page you manage (transfer a Yelp page from your account to another user and email address) you must complete the business page unclaiming request form on Yelp's website. Follow the steps below.
Login to your Yelp page for business for owners.
At the top, select Account Settings.

Select Release access to this business toward the bottom of the page.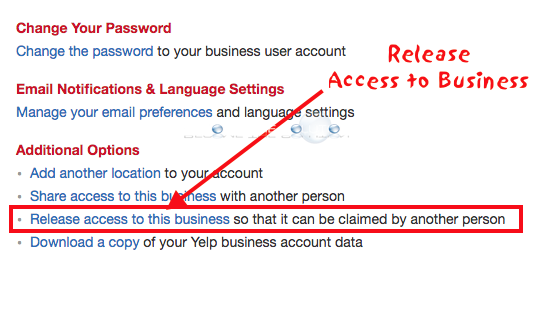 Search for the Yelp business page you are currently an administrator of.

Choose Select this business.

Fill out the Business page unclaiming request form and click send.
Yelp will respond via email confirming they released the Yelp business page and that it can be claimed by someone else. Follow our guide on how to claim a Yelp page here.
Related Posts