Why: iMessage Do Not Disturb Not Working – iPhone Group Text Message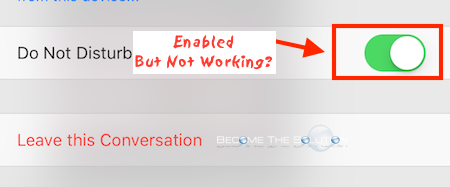 Do you have iMessages with Do Not Disturb enabled but you still receive a notification when you receive a new message? You may also notice that individual messages (or other group messages) do not send you notifications when Do Not Disturb is enabled. The Internet is currently buzzing on this feature not correctly working with group iMessages.
* Update 09/19/2017 *
In the latest version of iOS 11, do not disturb mode in iMessages is now known as hide alerts. Enabling hide alerts will hide any alert notifications from being displayed on your phone home and lock screen. If you are finding conversations you had prior to upgrading to iOS 11 are still not hiding notifications, delete the conversation and re-create it then enable hide alerts. You will still get a badge icon for new messages, however. Let us know if this does not work for you.

Note: The unofficial explanation of iMessage Do Not Disturb is that it only blocks sound notifications. You will continue received banner and vibration alerts for new messages if you have do not disturb enable on specific iMessage conversations.
The following methods are reported to work and fix iMessage Do Not Disturb in the latest version of iOS. Please let us know if anything below has worked for your or if you have another solution.
*Leave the Conversation and re-join it. (Hit the "i" in top right corner of iMessage and choose Leave this Conversation)
*Some report that after you enabled do not disturb in a group iMessage, as long as you don't reply to the message you will not receive notifications from the chat. However, this would defeat the purpose of the do not disturb feature.
*End iMessage (Swipe up on iPhone and quit iMessage) and reboot your iPhone. Unlikely to work but some report it does.
The only known way to block new notifications from iMessages is to enable the Global Do Not Disturb on your iPhone (Swipe up on home screen and toggle on the moon icon).
You can let Apple know you are displeased with the iMessage Do Not Disturb feature by going here.
* Please use the comment form below. Comments are moderated.*
Comments
No comments made yet. Be the first to submit a comment