Easy: Create Custom Ringtone Per Contact on iPhone - Latest

We all love the ability to create custom ringtones on our iPhones. In some cases, we want to have a special ringtone for a particular iPhone contact. This is easily achieved by following steps below.
Find audio you want setup as a custom ringtone on your iPhone. If the audio is on your iPhone, we need to get it to your Mac computer. The easiest way is to share the audio and email it yourself to download to your computer. Check out our article on copying files from your iPhone quickly for free. If the audio is already on your Mac you want to use for ringtone, perfect. Proceed to the next step.
Once you have your audio file you want to use as a custom ringtone on your Mac, we need to convert the audio file format to .M4A which is also known as an AAC file. If your audio file is already in .m4a format and file extension, proceed to step 5.
Open iTunes. Go to iTunes -> Preferences -> Import Settings and change the Import Using option to AAC Encoder. Click OK.

Drag your audio file into an iTunes playlist. Highlight the file then iTunes go to File -> Convert -> Create AAC Version. Find your converted file now in .m4a format in Hard Drive/Users/user/Music/iTunes/iTunes Media/Music/

Move the .m4a file to your Desktop.
Now, we need to rename the audio file extension to make it compatible and a recognizable ringtone to your iPhone. Rename your audio file from .m4a to .m4r.
Drag the .m4r audio file into Tones settings menu pane on iTunes.

Finally, let's get the newly created ringtone onto your iPhone. Connect your iPhone to your Mac and open iTunes.
Open your iPhone in iTunes, select Tones, and select Sync Tones. Finally, select Sync at the bottom right.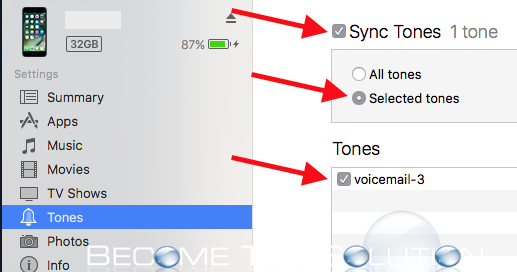 Note: You may receive a warning message from iTunes about items being removed on your iPhone. If you manually manage music and videos before on your iPhone, you will receive the following message below. To avoid erasing anything on your iPhone, take a back up first.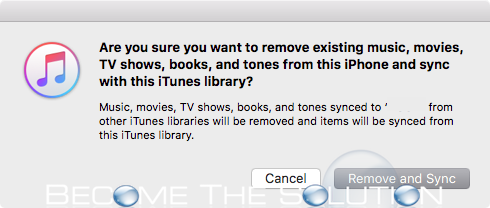 Are you sure you want to remove existing music, movies, TV shows, books, and tones from this iPhone and sync with this iTunes library?
Music, movies, TV shows, books, and tones synced to "" from other iTunes libraries will be removed and items will be synced from this iTunes library.
Now, your new Ringtone will appear on your iPhone. Let's set it for a particular contact. Open Contacts and select a contact. Click Edit. Scroll down to Ringtone and select it. You should see the name of our Ringtone listed under Ringtones now!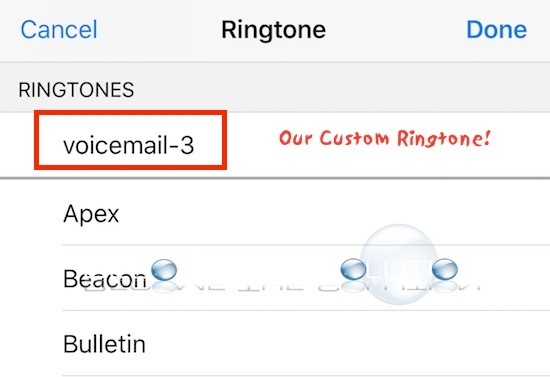 * Please use the comment form below. Comments are moderated.*
Comments The steps for producing ringtones are easy to understand.