Review: Best Streaming TV Service – 2019 (Over 1000 HD Channels $15 per month)

Vader Streams is online Internet Protocol Television (IPTV) service introduced in 2018. It's become one of the most popular IPTV streaming services today due to it's affordability and ability to use a single subscription license on up to 5 different devices.
Vader Streams Channels List
At this time, Vader streams offers over 1000 HD channels including some of the most popular United States channels – ESPN, Food Network, Cinemax, MTV, HBO, Starz, Showtime, Epix, NFL/NHL/MLB networks, TNT, Discovery, AMC, History, Comedy, Bravo and many more. Vader also offers U.S. regional channels (major city networks Chicago, LA, Atlanta, Miami, NY, Dallas, etc.) for ABC, CBS, FOX, and NBC. Finally, Vader offers channels outside the US including Canada, UK, and others. To view a current list of Vader stream channels see this link.
Vader streams is one of the only IPTV services to use an Electronic Programming Guide (EPG) to display all channels in a guide list, just like Cable TV providers do. Vader also includes catch up and recording so you can re-watch shows that aired previously.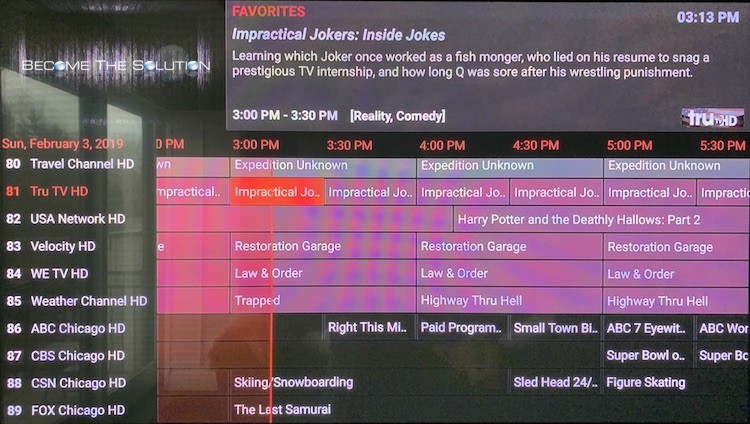 Vader Streams Supported Devices List
Vader streams is currently supported on web browsers for Mac, PC, iPhone, iPad, and Android devices. Other devices Vader Streams is supported on including:
Amazon Fire Stick - Buy
XBOX One - Buy
Playstation 4 PS4 - Buy
Samsung Smart TV's - Buy
Nvidia Shield - Buy
Android Box Devices - Buy
Formuler Devices - Buy
MAG Devices
STB Emulator
Perfect Players
For best stream performance, Vader is recommended using a minimum of 15Mbps Internet connection speed.
Vader Streams Key Features
*Over 1000 Premium Cable HD Television Channels
*$15 a Monthly
*Use on up to 5 devices in 3 different locations (3 different IP addresses)
*Fast reliable streaming – never an interruption while we used it
*EPG guide so you can sort all channels like a regular TV guide. It's fast too.
Even though the Vader Streams service is relatively new, it continues to maintain a reliable service at a very affordable price.
Visit the Vader Streams store to signup.
* Please use the comment form below. Comments are moderated.*
Comments
No comments made yet. Be the first to submit a comment