If you are trying to reduce the size of multiple MP3's in order to compact and send as a single file such as a .zip, here are the top compression methods to use today.
Note: Keep in mind, since MP3 is already a compressed format, it will be difficult to compact MP3 files any more without reducing the actual MP3 bit rate.
1. RAR Files (Mac \ Windows)
RAR is a data compression archive format. It offers several levels of compression. You may be able to reduce and MP3 file a few megabytes if you use the highest compression method available using WinRAR.
In Windows (or Mac), right-click on MP3 files -> add to archive… and choose best for compression method.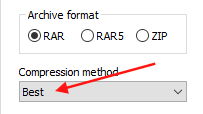 2. ZIP Files (Mac / Windows)
Zip is the most common form of compression, however it offers little to no compression on MP3 files, and generally, many media files. These types files are already heavily compressed in their own formats. Use ZIP format if you are looking for a quick and compatible alternative for moving multiple files in a single file.
*Update* – Winzip 21 claims it will compress your MP3 files up to 20% more using the best method.
3. Clusters
Clusters from their website "Clusters takes advantage of the file compression technology built into Mac OS X to help you regain space, keep your system tidy and launch your files faster. Clusters is a background and transparent file compressor: Mac OS and your apps will use compressed files without having to expand them first - they will just take less disk space and load faster."
Clusters compresses files, and does not archive them – not to be confused.
4. 7-ZIP (Mac \ Windows)
7-Zip has grown in popularity today. It is an open-source archive file archiver. 7-Zip may compress files more than 17% better versus ZIP.
If you know of a better file archiving compression utility for reducing the size of multiple MP3 files, use the comment form below to let us know. We would be happy to feature the product in our article.