Why: A Data Connection is not Currently Allowed – iPhone (Safari)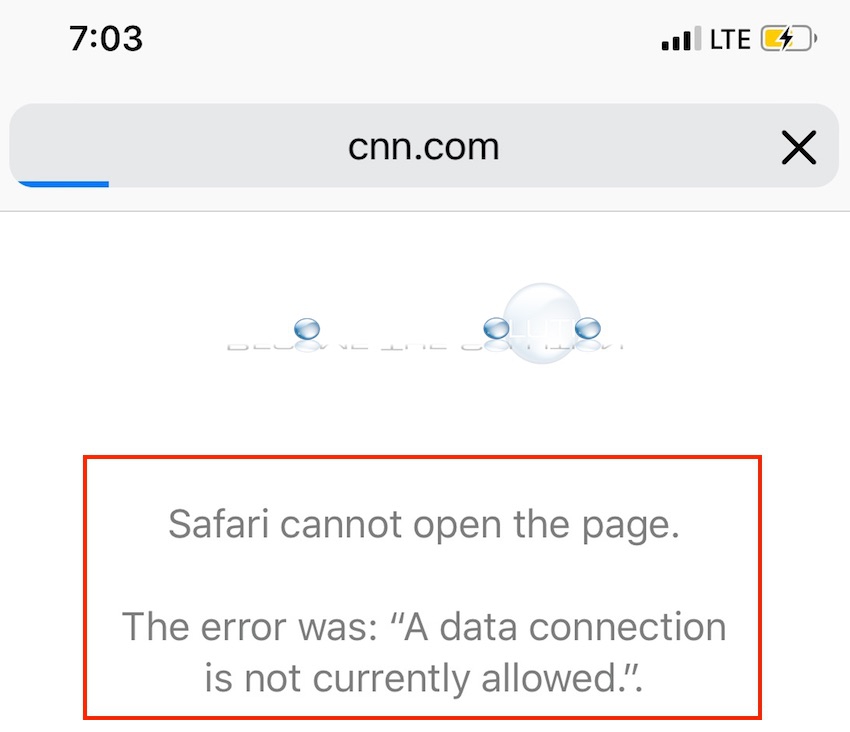 While browsing using Safari on your iPhone, you receive the following message:
Safari cannot open the page.
The error was: "A data connection is not currently allowed.".
Assuming you are not using a Wireless connection, ensure Data Roaming is already enabled on your iPhone. (Go to Settings -> Cellular -> Cellular Data Options -> Data Roaming enabled). Next, check the following troubleshooting steps below.
If you are using Data Roaming, ensure your Network Selection is set to Automatic. If you manually selected a roaming data network, LTE/3G data may not work in certain areas over certain provider networks.
Go to Settings -> Cellular -> Network Selection -> Automatic (enabled).
It is possible that you are connecting (roaming) to multiple network providers across country borders. This occurs when you are close to multiple neighboring countryies, Resetting your network settings commonly fixes this issue and helps to maintain a persistent connection to the strongest carrier network signal closest to you.
Go to Settings -> General -> Reset -> Reset Network Settings.
Note: This will remove any saved wireless networks and passwords to those networks and you will need to reconnect to them again if you choose.
Remove/replace your iPhone SIM card. Some users report that removing or replacing their SIM card fixes the issue.
Toggle iPhone Airplane mode on and off. Swipe up from the bottom of your screen to reveal command center and toggle on Airplane mode. Wait about 10 seconds, then toggle off Airplane mode. This will re-connect your cellular and data connection.
* Please use the comment form below. Comments are moderated.*
Comments
No comments made yet. Be the first to submit a comment