iPhone Delete App Cache Increase Storage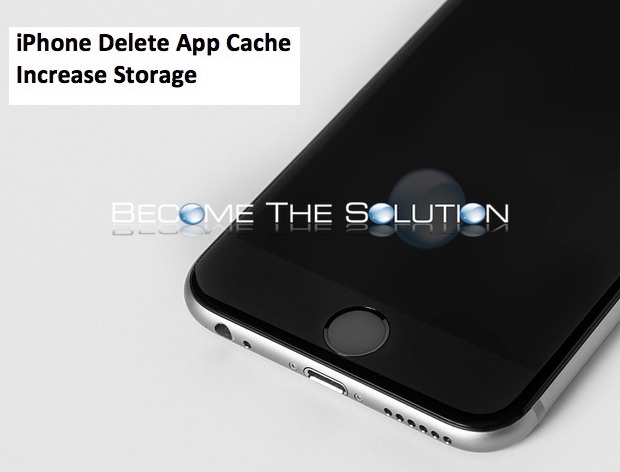 There are several things you can do to free up space on your iPhone and increase your battery life. The latest IOS for iPhone is very restrictive in terms of maintenance you can perform yourself. Review these tips for helping increase your iPhone performance and space.
Go to Settings -> General -> Storage & iCloud Usage -> Manage Storage (Under Storage)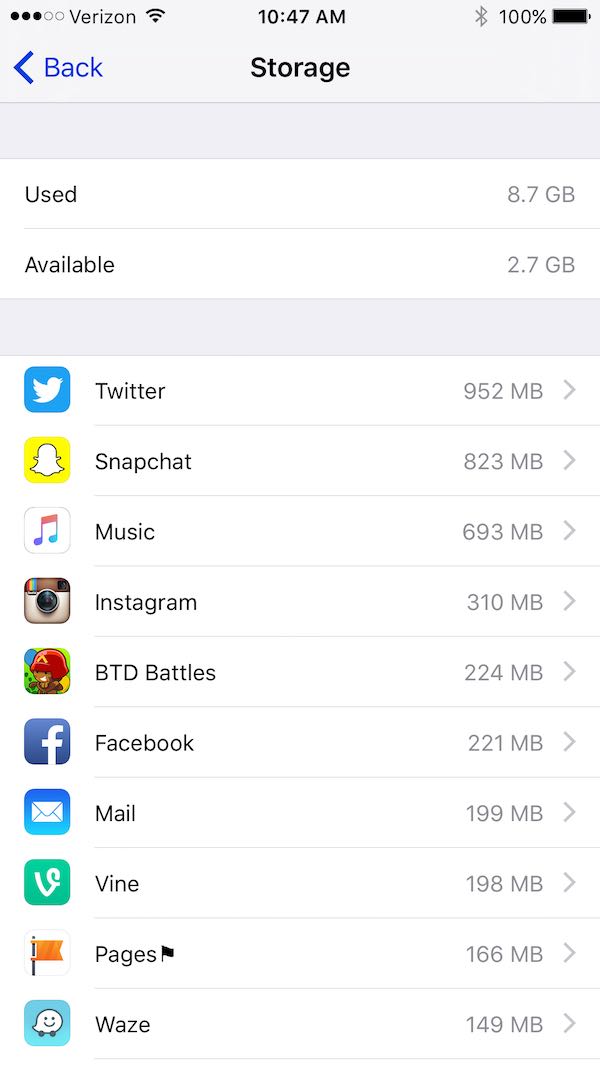 Here you will find top apps that are using space on your phone. You can click each app to see if there is an option to remove cache. More likely than not, there won't be. We recommend deleting and re-installing an app if it's using more than 500MB on your phone. Deleting and re-installing the app automatically clears its cache.
2. Delete Browsing Histories
Go to Settings -> Safari -> Clear History and Website Data
If you have other web browsers installed on your iPhone, clear the browsing history with those apps too. Sometimes, this can amount to over 1g of space secretly hiding on your phone.
Go to App Store

At the bottom of the App Store, you will see the icons for Featured, Top Charts, Explore, Search, Updates. Click 10 times on any of these icons. App Store will reload its screen confirming successful reset of the App Store cache.
4. Reset Network Settings
Go to Settings -> General -> Reset -> Reset Network Settings
This will reset your Wireless Network and Cellular Carrier settings. If you have dozens of wireless networks saved, this could help your wireless roaming pick up WiFi networks quicker. This reset is always best practice to do every month. Downside is having to re-connect to any Wireless Networks like you did before.
5. Perform a Clean iPhone Reboot
Double click the iPhone home button to bring up your running apps. Swipe upward on each app to quit them. Do this for all running apps. Finally, reboot your iPhone by power it off and on. A clean reboot will free up your iPhone memory.
6. Restore from Current iPhone Backup
Backup your current iPhone in iTunes. This method will completely wipe your iPhone – but we will be restoring it just like it was.
Go to Settings -> General -> Reset -> Erase All Settings
Your iPhone will factory reset. Once your iPhone reboots, connect to iTunes and restore from the backup you made. Doing this type of restore helps clear out "unknowns" your iPhone might have been faced with including old profile caches.
Other iPhone App Cleaning Methods
If your iPhone is Jailbroken with Cydia, you can download and use
Lautus
* Please use the comment form below. Comments are moderated.*
Comments
No comments made yet. Be the first to submit a comment