Xfinity (Comcast) Internet Service Speed Increase 75Mbps to 100Mbps
Xfinity (Comcast) recently sent a letter out to customers notifying about an Internet speed increase at no charge from 75Mbps to 100Mbps. This only affects your DOWNLOAD speed. This does not change your current upload speeds. The mailer is a bit deceiving, since upload and download are not used in the language. In addition, the letter states you must reboot your modem for the new speeds to take effect, however this isn't necessarily true. We saw our download speed exceed 100mbps the same time we received a letter.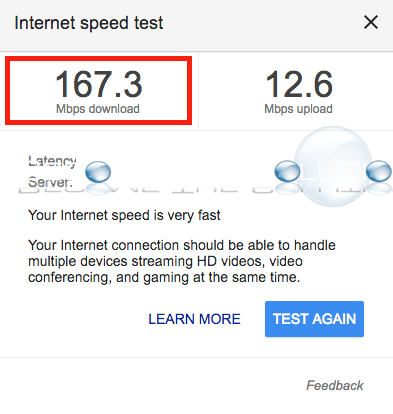 Read the letter:
Dear ""

We have increased your Internet speed!

Your Xfinity Internet service has been increased from 75Mbps to 100Mbps. This increase comes automatically – so there are no calls to make.

With 100Mbps of speed, and the best in-home WiFi experience, you and your family now have even more speed and can use eight devices online at the same time. You can even stream and download multiple HD videos simultaneously so that everyone can enjoy what they want to watch, when they want to watch it.

To enjoy your new speed, you will simply need to power cycle your modem. You can do this easily with the Xfinity My Account app or following the steps listed below.

Shut down your computer.
Unplug your modem from the outlet.
Plug your modem back in.
Wait 30 seconds and turn your computer back on.

Signed Larry Schweber
To check and see you are receiving the new Xfinity download speeds, use Google Speed Test.