Are you noticing your iPhone battery percentage suddenly diminishing – even while your iPhone is charging? Sometimes, an app will drain your iPhone battery faster than your iPhone can charge itself. This can become very frustrating, especially if your iPhone is already low on battery life. There are several reasons your iPhone battery is draining fast including a poorly manufactured or frayed charging cable, weak charging power from a USB outlet, or an app on your iPhone is constantly draining battery. You can quickly perform the following steps to check which app on your iPhone is using up battery life.
On your iPhone, open Settings
Click Battery

You will see a list of the most battery intensive apps the Last 24 Hours. If an app is using more than 50% battery life, this is likely the culprit for your battery draining. This may be caused by a recent update to the app or it has been opened for an extended period of time.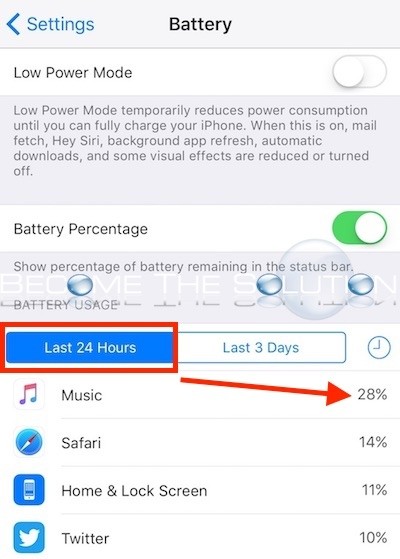 If you select Last 3 Days, you can compare this time frame and look for trends in apps using more battery life.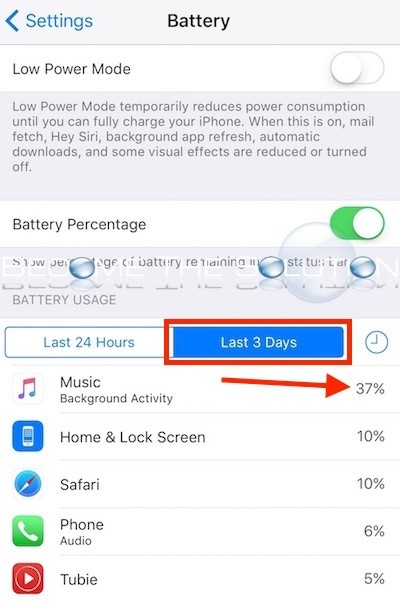 To fix apps using too much battery life, always check for App Updates in App Store -> Updates. In addition, quit the app and re-open to refresh the app cache. On the iPhone home screen, double click the home button and swipe up to end an app.
Incompatible iOS apps also contribute to your iPhone using more battery life than it should. Ensure your iOS is up to date.
Finally, it is good practice to quit all apps and reboot your iPhone about once a month. This will ensure your iPhone has a "clean slate" and its memory freed up.